Police fatally shoot man armed with knife in the Bronx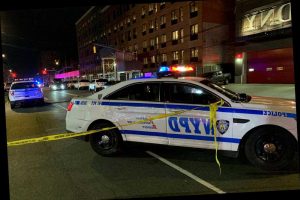 Police fatally shot a man who charged at them with a knife in the Bronx on Thursday night, authorities said.
The shooting unfolded after a plainclothes sergeant and a detective with the narcotics division came across a fight between the man and woman at about 6:15 p.m. at the intersection of East 233rd Street and Barnes Avenue in Wakefield, police said.
After leaving their vehicle, the officers then saw the man, armed with a knife, chasing the woman in the street, according to Chief of Department Terence Monahan.
The cops, who had their police shields around their necks, identified themselves and ordered the man to drop the knife.
"At the time, the man turned around and ran toward the sergeant and the detective while still armed with that large knife," Monahan said at a press briefing.
Monhan said the officers fired five to six shots, striking the man, who was pronounced dead at Montefiore Medical Center.
Witnesses at the scene told police the man and the woman, who know each other, had a similar argument on Wednesday.
In the first feud, the man threatened to kill her for not calling him, Monhanan said.
Both officers were also hospitalized for evaluation, police said. 
Police said they recovered several knives at the scene.
Share this article:
Source: Read Full Article