Prince Harry dresses as SPIDERMAN in Christmas message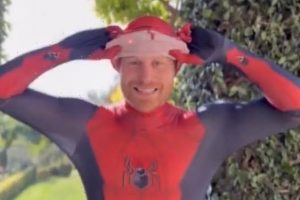 Prince Harry dresses as SPIDERMAN in hilarious Crhistmas message video for children of parents killed while serving in British armed forces
Prince Harry, the Duke of Sussex, has recorded a special Christmas video message for a charity for bereaved military children dressed as Spider-Man.
In a full Spider-Man suit, the prince recorded the message for the charity Scotty's Little Soldiers, wishing them a happy Christmas.
The video was played to over 100 young children who have experienced the death of a parent who had served in the British Armed Forces.
Prince Harry, the Duke of Sussex, dressed as Spider-Man to record a video message for the members of Scotty's Little Soldiers at their annual Christmas party
Source: Read Full Article