Private jet passenger is killed during turbulence over New England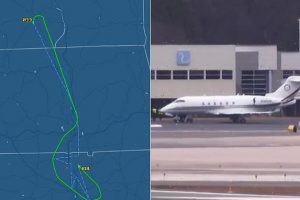 FBI is investigating after private jet passenger is killed during severe turbulence over New England before Bombardier Challenger 300 airplane is forced to land in Connecticut
A passenger was killed on a private jet after the plane hit severe turbulence
The plane was forced to make an emergency landing in Connecticut
The aircraft is owned by Kansas City-based internet provider Conexon
The FBI is investigating after a business jet was hit by severe turbulence over New England, causing a rare passenger death and forcing the aircraft to divert to Bradley International Airport in Connecticut, officials said Saturday.
Five people were aboard the Bombardier executive jet that was shaken by turbulence late Friday afternoon while traveling from Keene, New Hampshire, to Leesburg, Virginia, said Sarah Sulick, a spokesperson for the National Transportation Safety Board.
The extent of the damage to the aircraft was unclear and the NTSB did not provide details including whether the victim was wearing a seatbelt.
The jet is owned by Conexon, a company based in Kansas City, Missouri, according to a Federal Aviation Administration database. The company, which brings high-speed internet to rural communities, declined comment Saturday.
NTSB investigators were interviewing the two crew members and surviving passengers as part of a probe into the deadly encounter with turbulence, Sulick said. The jet's cockpit voice and data recorders were sent to NTSB headquarters for analysis, she said.
The plane shown here shortly after making its emergency landing in Connecticut 
According to Flight Aware data, the plane made the reverse journey from Leesburg to Dillant/Hopkins on Thursday. 
Bradley International is around 70 miles from Keene, New Hampshire, where the plane took off from. 
'On 03/03/2023, at approximately 3:49 PM, Connecticut State Troopers responded to a medical assist call at Bradley International Airport. One patient was subsequently transported to an area hospital via ambulance.
Our agency is assisting as needed; however, the NTSB and the FBI are investigating the facts and circumstances surrounding this incident. For further information please contact those agencies directly,' a Connecticut State Police spokesperson told DailyMail.com.
Turbulence, which is unstable air in the atmosphere, remains a cause for injury for airline passengers despite airline safety improvements over the years.
Earlier this week, seven people where hurt badly enough to be transported to hospitals after a Lufthansa Airbus A330 experienced turbulence while flying from Texas to Germany. 
The plane was diverted to Virginia's Washington Dulles International Airport. Oscar winner Matthew McConaughey's wife, Camila, was among the passengers. She described it was 'chaos' and added 'the turbulence kept on coming.'
But deaths are extremely rare. A preliminary report will be published in two weeks. 
'I can't remember the last fatality due to turbulence,' said Robert Sumwalt, a former NTSB chair and executive director of the Center for Aviation and Aerospace Safety at Embry-Riddle Aeronautical University.
Turbulence accounted for more than a third of accidents on larger commercial airlines between 2009 and 2018, according to the NTSB.
The plane was bound for Leesburg Executive Airport in the DC suburbs 
The plane is a Bombardier Challenge 300 twin-jet
According to Flight Aware data, the plane made the reverse journey from Leesburg to Dillant/Hopkins on Thursday
In December, an investigation was launched after severe turbulence injured 36 people aboard an Hawaiian Airlines, while five people were hospitalized in Houston days earlier after a second flight was rocked by turbulence en route from Brazil.
There was no indication that the two instances of turbulence were related. Air travel is exceptionally busy around the world this week due to the winter holidays.
The Hawaiian Airlines flight departed Phoenix and was nearing Honolulu when it hit the turbulence. 
Video of the aftermath shows passengers scrambling to secure luggage that had fallen from the overhead bins, as children can be heard wailing in the background. 
A flight attendant is heard making an appeal over the intercom: 'Ladies and gentlemen, attention onboard: do we have any trained medical personnel? Do we have any doctors, nurses, firefighters?'
In all, 36 people on board the plane received medical treatment for bumps, bruises, cuts and nausea. Twenty people were taken to hospitals, including 11 in serious condition.
'My mom wasn't buckled and she flew up and hit the ceiling, then hit the floor.
'There were several other people that hit their head. When we landed, paramedics came and had to wheel people out. Quite a few people had lacerations on their head and blood dripping down,' she added.
Source: Read Full Article