Pub owner fined for operating during lockdown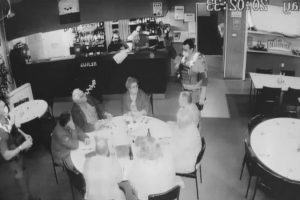 A publican who continued to operate his regional hotel in breach of Victoria's lockdown restrictions following warnings from police has been fined $5000 after failing to convince a court the prosecution was unlawful.
Judicial registrar Allison Vaughan found Trevor Andrews, who represented himself in court, guilty on Wednesday of refusing to comply with directions given to him to fall in line with the chief health officer's orders.
Trevor Andrews of the Pastoral Hotel in Echuca continued to serve customers after being warned by police he was breaching lockdown rules.Credit:Nine News
Andrews, who owns and operates the Pastoral Hotel in Echuca, about 220 kilometres north of Melbourne, contested the charge and argued police were not authorised to penalise him for opening his pub to customers in 2021.
But Vaughan disagreed, labelling the case a deliberate and significant example of the offence.
"You were effectively motivated because you were experiencing significant hardship during the COVID pandemic," she said. "I understand that hotels are often more than just a pub in a country town – they're a place where people socialise, a place where people who are sometimes quite isolated … find a friendly face, a friendly chat.
"I appreciate you provide more than just a service of a parma and a pot, but the reality is there were so many people suffering during COVID, so many businesses like yours that had financial impact."
Trevor Andrews was found guilty on Wednesday.Credit:Nine News
Echuca Magistrates' Court heard Andrews had been visited and warned by authorities on July 19 and 20 last year. But despite the warnings, he continued to operate the hotel, Vaughan found.
Vaughan said that at the time, an extension of the state of emergency had been declared in Victoria by then health minister Martin Foley.
Andrews was charged with refusing to comply with the chief health officer's directions on July 21 last year.
"I acknowledge people suffered financially, emotionally, psychologically and physically during COVID, but you took it upon yourself … to breach the law because you wanted to operate your hotel," Vaughan said.
"The problem is, if everyone took this approach, we would've been in a world of trouble, a world of hurt, more so than we were. Despite directions and warnings by police over a period of two days, you continued to operate. Your breach must be viewed as a significant breach."
Andrews, who was supported in court by a large number of people in the public gallery, had previously submitted an 11-page document outlining his case and argued the charge against him was unlawfully made.
He argued police did not have appropriate powers to charge him and there was not a serious risk to public health at the time, as required to invoke a state of emergency.
A day before he was issued his first warning, a post on his pub's social media page said: "Do your own research and stop listening to what the government tells you. This pandemic will never end and the people of Victoria will never recover if we don't take a stand."
Soon after, police said, 47 patrons and employees had been issued infringement notices for visiting the pub over a number of days.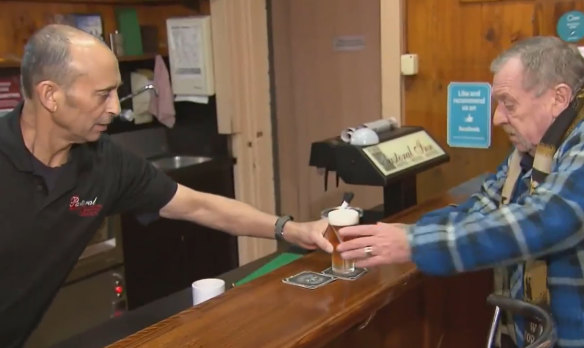 Andrews has been fined $5000.Credit:Nine News
At the time, Victoria Police Chief Commissioner Shane Patton warned the owner that if he continued operating a sit-down dining service during lockdown, he faced being arrested for breaching his bail conditions.
It prompted the creation of an online fundraising page, which was purportedly set up to help cover Andrews' court and infringement costs.
Andrews told the court he planned to appeal against the decision in the County Court at a later date.
The Morning Edition newsletter is our guide to the day's most important and interesting stories, analysis and insights. Sign up here.
Most Viewed in National
From our partners
Source: Read Full Article