Richard Pusey charged with stalking and assaulting police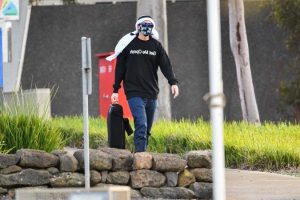 Porsche driver Richard Pusey is again behind bars accused of assaulting police.
The 42-year-old, who filmed police officers after they were hit by a truck in the aftermath of the fatal Eastern Freeway crash last year, will face court on Thursday after an incident at his home.
Richard Pusey leaves jail in August. Credit:Joe Armao
Police were called to his address following reports of a noise complaint about 4.15am on Wednesday.
He later attended a police station and was charged by Yarra crime investigation unit detectives with four counts of assaulting police and two counts of stalking.
He faced court for a filing hearing on Wednesday night and made no application for bail.
He is set to face court again on Thursday.
Pusey was released from Ravenhall Correctional Centre on August 25 having served time for outraging public decency and other offences relating to the crash on the Eastern Freeway on April 22 last year.
Leading Senior Constable Lynette Taylor, Senior Constable Kevin King and constables Glen Humphris and Josh Prestney had pulled Pusey over for speeding in his Porsche on April 22 last year.
They were discussing impounding his vehicle when they were hit by Singh's truck.
Pusey filmed the police officers with his mobile phone in their final moments. He was sentenced for outraging public decency and other offences stemming from his driving and conduct on the freeway.
More to come.
Most Viewed in National
From our partners
Source: Read Full Article