Ron Klain will step down as Biden's chief of staff within WEEKS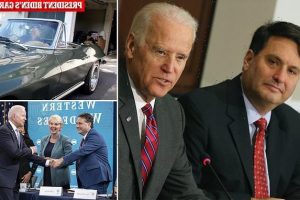 Ron Klain will step down as Biden's chief of staff within WEEKS as president faces legal turmoil over classified documents found at his home and think tank
Ron Klain, Biden's White House chief of staff, will step down within weeks 
Sources said Klain would likely depart on February 7 after allegedly being asked to stay longer than he had originally planned 
It comes as the president faces scrutiny over classified documents found at his home and think tank, which he claimed American's weren't interested in  
Ron Klain, Joe Biden's White House chief of staff, will step down in the coming weeks as the president faces legal scrutiny over his classified documents scandal.   
Klain has informed Biden of his plans, sources said on Saturday, confirming a New York Times story that said the long-serving aide would likely depart after the president's State of the Union address on February 7.  
The chief of staff had previously stated his intent to leave the administration following the midterm elections, noting publicly that the position can be exhausting. 
Officials told CNN Klain has been a key player in the White House, having had a decades-long working relationship with Biden, with some saying he had been urged to stay for longer than he planned.  
Ron Klain (left), Biden's White House chief of staff, will step down within weeks, sources say. The two men have worked together in government for decades 
Klain's departure comes as the White House faces scrutiny after documents were found in Biden's garage at his Wilmington, Delaware home
Klain had celebrated the second anniversary of Biden's presidential inauguration on Friday, inviting White House staffers to cake. 
'Today – at the halfway point of this term for the President and Vice President – we celebrate not only WHAT was accomplished, but HOW it was accomplished: through teamwork, collaboration, mutual respect, and a lot of hard work,' Klain wrote in an email to staffers. 
'This team did so many historic things, and did them in historic fashion, as part of the most diverse and most talented White House staff ever.' 
The email was void of any details over his previously speculated departure, or of the recent scandal plaguing the administration.   
After sitting on the discovery of classified documents at a D.C. think tank for two months, Biden and his administration are now on the attack and trying to bat away questions by insisting they did everything by the book. 
A Biden lawyer informed the National Archives of the files found in the Penn Biden Center just days before the November midterms.
But it was only last week that it was first reported by CBS News, and on January 12, it was revealed that even more documents were found in Biden's garage at his Delaware home. 
The White House has since been condemned for their lack of transparency and Biden's handling of files is now being investigated by a Special Counsel. 
The president and White House has been noticeably dismissive of the issue, with Biden recently snapping at reporters for trying to follow up on details surrounding the scandal. 
When a reporter asked on Thursday night during a climate change talk if he had any 'regrets' about the sensitive files debacle, Biden said the interrogation by the media 'bugs' him when we 'we have serious problem here we're talking about'.
'The American people don't quite understand why you don't ask me questions about that,' he added. 
Despite his animated reaction he said he would respond, and opened the first page of the binder on his lectern and started to read.
'Look, as we found a handful of documents that were filed in the wrong place, we immediately turned them over to the archives and the Justice department. We are fully cooperating and looking forward to getting this resolved quickly. I think you're going to find there's nothing there.'
'I have no regrets in following what the lawyers have told me what they want me to do, it's exactly what we're doing. There's no there there.'
Klain has remained a strong aid to Biden, having worked with him for decades. Biden is pictured shaking his hand during a White House event in 2021 
It remains unclear if Klain could delay his exit to help out his old friend. The duo first worked together in the early 1990s when Biden was the chairman for the Senate Judiciary Committee while Klain worked as its chief counsel. 
Klain has previously worked with the Clinton administration and served as Al Gore's second-term chief of staff. 
He also served on the general counsel in charge of the recount effort in Florida between presidential candidates Gore and George W. Bush.
Klain returned to Washington to serve as Biden's chief of staff during the Obama administration, leaving in 2011 before returning three years later to work with Biden on the Ebola response effort.  
Source: Read Full Article