Shocking moment wrestler urges young CHILDREN to yell homophobic slurs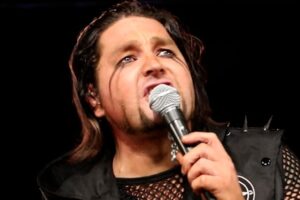 Shocking moment wrestler urges young CHILDREN to yell homophobic slurs at rival during family show
EXCLUSIVE: Wrestler started chant with 100 kids of 'big fat p***' at Staffs theatre
Prince of Wales Theatre has now dropped Al Snow Wrestling Academy Midlands
A family wrestling show has been axed after a video emerged of a muscle-bound star urging at least 100 children in the audience to yell homophobic slurs at his rival in the ring.
Luke Douton, who ran the Al Snow Wrestling Academy (ASWA) Midlands which licences the name of the WWE superstar, started an offensive chant of 'big fat p***' in 'support' of the Queen – which was repeated in unison by more than 100 children.
After MailOnline told managers at The Prince of Wales Theatre in Cannock, Staffordshire about the wrestler's homophobic tirade, it axed further events with the firm, which is 'endorsed' by Snow, whose US wrestling school OVW was the subject of Netflix docuseries Wrestlers. It is not believed Snow attended the match.
The wrestling organisation had been due to hold an event at the venue this Sunday November 1 – but the outraged managers have ditched the show, which cost £12 for an adult ticket and £10 for children.
Theatre managers, which are in partnership with Cannock Chase and North Yorkshire Councils, said they were 'appalled' that a 'homophobic slur' was used at their venue, adding that they will not work with anyone who 'entices homophobic views'.
Wrestling promoter Luke Douton (pictured), who runs the Al Snow Wrestling Academy (ASWA) Midlands on behalf of the famous WWE star, was filmed starting a homophobic chant of 'big fat p***' repeated by more than 100 children in the Queen's name
After MailOnline told managers at The Prince of Wales Theatre in Cannock, Staffordshire about the wrestler's homophobic tirade, it axed further ASWA wrestling events
Luke Douton ran wrestling school ASWA Midlands, which licences the name of WWE superstar Al Snow (pictured)
During the ASWA Midlands wrestling match at the 427 capacity theatre in May last year, Douton – as alter-ego Layton Cole – went on the homophobic tirade to stalls packed with as many as 150 children, according someone who was in the audience.
'I drove the post office and I collected a parcel and inside was a letter directed to me and it read: "Layton Cole, listen yeah. I promise it did, it said "listen yeah",' Douton shouted down the microphone to the packed theatre.
'And it continued: "Jonny Rose [his wrestling opponent] is a big p***." '
Children laughed at Douton's comments before he continued: 'And I couldn't believe what I was reading, but I continued to read… It said: "Big Tim Burns is a big fat p***."
'In support of the Royal Mail and Her Majesty herself I wanna' hear a crescendo right now of: "Big fat p***!"'
Children can then be heard repeating the chant along with and after Douton no less than ten times.
The witness, who also attended this show, was outraged that fight promoter Douton was getting children to shout homophobic slurs. 'I can't believe they're getting kids shouting these things,' he told MailOnline.
He said the venue was 'full of kids', around 100 to 150 of them, mostly shouting 'big fat p***' in time with Douton.
He added that his wife, who works with children, said the scene was 'appalling'.
ASWA Midlands also run a children's wrestling school, which the witness to this incident said was concerning given his apparent attitudes towards sexual minorities.
A spokesperson for Inspiring Healthy Lifestyles, which manages the Prince of Wales Theatre, told MailOnline: 'We are appalled that this language and homophobic slur has occurred at one of our venues.
'This was a private hire event using our facility and was not witnessed by our staff at the time. As soon as we were made aware of this incident, we immediately suspended the organisation that hired the venue and removed all future advertising for their upcoming events from our website.
'Inspiring Healthy Lifestyles does not support, or work, with any entity or organisation that entices homophobic views; we cannot stress that enough.
'We are a proud champion of inclusivity for all, demonstrated by the community engagement work we do every day.'
Douton, as alter-ego Layton Cole, said 'Big Tim Burns is a big fat p***' at the wrestling match
During a May 2022 ASWA Midlands event at the 427 capacity Prince of Wales Theatre in Cannock, Staffordshire, Douton (centre), who uses the stage name Layton Cole, went on a homophobic tirade to an audience packed with at least 100 children
Luke Douton admitted that his chant of 'big fat p***' was 'probably a bit close to  the line', when approached for comment by MailOnline, but blamed the 'pressure' of the live moment and said he had moved past a 'period of depression and self loathing'.
He claimed to have 'moved away from wrestling' but as of time of writing, Douton's wrestling alter-ego Layton Cole is still listed as part of the ASWA Midlands roster on its website.
The wrestler is also due to appear as Layton Cole at an event at the Tamworth Assembly Rooms in Tamworth, Staffordshire this Saturday, September 30.
Douton said that, as far as he remembered, he made the remarks during 'a promo where my mind went blank and some silly stuff came out that was probably a bit close to the line.'
'But you're live and under pressure sometimes silly things slip out,' Douton added.
'I did think afterwards it was among my worst performances but it was an exceptionally hard time and I was going though a good amount of negative things that impacted everything for me back then.
'Thankfully I have moved past this period of depression and self loathing and have moved away from wrestling into a business that brings me much joy. I did thousands of matches over almost 20 years im sure not all of them were perfect and not everything was done well.
'If over the time period I did it I gave some people an escape from the bad in their lives for a couple of hours or a laugh when they needed it I'm happy with that.
'I did lots of shows for free for charities and low income families. I raised money for the Teenage Cancer Trust with events and many of these kind of things. When I felt I could do my part I did.
'Tried my best dude.'
MailOnline has reached out to Al Snow for comment.
Source: Read Full Article