Shocking video shows the moment rapper Key Vhani guns down her manager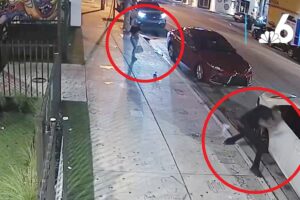 Video shows the moment rapper Key Vhani guns down her manager in the middle of a Miami street – before she is runover by a car fleeing the scene
Kevhani Camilla Hicks, 27, has been charged in the fatal October 9 shooting
Video shows the rapper shooting her manager after a fight with two men 
The other man involved hit Hicks with a white car while fleeing the scene 
Rapper Key Vhani has been charged with murder as the shocking moment she allegedly fatally shot her manager in a Miami street after a dispute – seconds before she was hit by a car – was captured on video.  
Kevhani Camilla Hicks, 27, faces second-degree murder charges for the October 9 shooting in front of the Wynwood Walls, which her attorneys claim was self-defense.
Video obtained by NBC6 shows a woman police identified as Hicks gunning down the victim, then getting run over by a white sedan as she flees the scene.
The footage shows Hicks – known by the stage name Key Vhani – and another man arguing outside a white car. As they start hitting each other, another person, said to be her manager, gets out of the car and helps attack her.
Hicks is seen being slammed into the ground before all three get up and she starts to walk in the opposite direction.
Then she pulls a gun out of her bag and beings firing, eventually shooting her manager.
Video captured the moment rapper Key Vhani fatally shot her manager on October 9 in Miami
Kevhani Camilla Hicks, 27, known as rapper Key Vhani, has been charged with second degree murder
The other man gets into the car and runs over Hicks with the vehicle as he escapes the scene. 
Video shows her getting up after being hit and running away. 
Miami police said when they arrived on scene they found the man who had been shot multiple times on the ground, and Hicks with blunt force injuries nearby. 
Both were taken to Jackson Memorial Hospital's Ryder Trauma Center, where the man, whose identity has not been released, died form his injuries.
'We know that based on her statement, that the victim in this case is her manager and she says that she's a singer. But we don't know what led to this argument,' Miami Police spokesman Michael Vega said.
The police report said, 'The defendant stated she was in fear due to the victim's size and upon hearing the victim yell "I'll kill you with one hit."'
Hicks said the victim appeared to be positioning himself to lunge at her when she began shooting, but when shown the video she maintained she was in fear for her life.
She has pleaded not guilty and her public defender said it is a 'clear case of self-defense.'
Video shows Hick was in a fight with two men before the shooting started
She then reached into her purse and grabbed a gun. She began firing and shot one of the men said to be her manager
The other man drove off in the white car, hitting Hicks before fleeing the scene
Hicks (pictured) has pleaded not guilty and he attorney said it is a 'clear case of self-defense.' In November she was granted a $50,000 bond and house arrest
At an October hearing, Hicks was initially denied bond. 
Miami-Dade Judge Mindy Glazer said, 'I believe she does have a very good self-defense claim but that claim is a defense of the charge, it doesn't negate the finding that there is probable cause for second-degree murder, the victim was walking away and she shot him after he was beating on her.'
At a November hearing, she was granted a $50,000 bond plus house arrest and is expected to be released soon.
Court records show she has a hearing scheduled for February 15.  
Source: Read Full Article