Six killed as car ploughs into crowd at Belgium carnival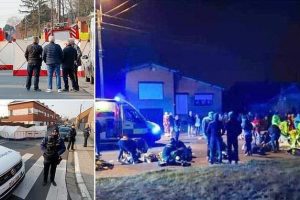 Horror at Belgian carnival as car ploughs into crowd at high-speed killing six and leaving 10 seriously injured
Six people have been killed and 12 seriously hurt at a carnival in Belgium 
Jacques Gobert, mayor of La Louviere, said the car was driven at high speed
He said around 150 people had gathered ahead of the annual folklore parade 
Authorities on Sunday said the incident did not appear to be a militant attack
Prosecutor's office denied reports car was involved in high-speed police chase 
A car was driven into a crowd of people preparing for a carnival in southern Belgium on Sunday morning killing six and seriously injuring 10 others.
The incident occurred at around 4am in the southern Belgium village of Strepy-Bracquegnies, a district in the former coal-mining town of La Louviere which is 30 miles south of Brussels.
'At this stage of the investigation, we know that a vehicle slammed into a group [of carnival goers] and that there are six dead and 26 injured, including 10 people whose life is in danger,' prosecutor Damien Verheyen told reporters at the town's city hall.
The main suspects, who were arrested, were born in 1988 and 1990, he said, adding that terrorism was not at this stage considered a motive.
Mr Verheyen said the two came from La Louviere, a town near the French border in Belgium's rust belt, and are not known to authorities for similar acts.
Belgian towns and villages host many street carnivals around the season of Lent, with the parades in Binche and Aalst the best known internationally. 
The prosecutor's office denied media reports that the crash may have involved a vehicle which failed to stop for police. 
Authorities investigating an incident in which a car was driven into a crowd of people in the southern Belgium village of Strepy-Bracquegnies said it does not appear to be a militant attack
The driver of the car and a second person were arrested when the vehicle came to a halt following the crash
Residents were seen embracing each other after learning news of the horrific incident in Belgium
Interior Minister Annelies Verlinden, Crown Princess Elisabeth, King Philippe – Filip of Belgium, Belgium's Prime Minister Alexander De Croo attend a meeting at a crisis centre and the site where a car ran into a group of people in Strepy-Bracquegnies
Jacques Gobert, mayor of the neighbouring town of La Louviere, said between 150 and 200 people were gathered to get ready for the annual folklore parade, involving costumes and drums, when the vehicle appeared.
He told RTBF radio: 'A car drove from the back at high speed. We have a few dozen injured and unfortunately several people who are killed.
'The driver was intercepted as he tried to get away. The cause of the incident or whether the crash was intentional has not yet been determined.' 
A spokesman for the local emergency services said: 'An early morning carnival opening ceremony was taking place, when the car approached a crowd in what looked like a deliberate attack.
'The driver tried to get away, but was arrested by the police. He is currently in custody.' 
Belgian Interior Minister Annelies Verlinden said an examining magistrate has opened a criminal enquiry, and no motivation was being ruled out.  
Witnesses described a horrific scene of a car that apparently willfully drove into the carnival-goers which included children.
Fabrice Collingnon, a Belgian TV presenter, told AFP the procession was joyfully underway when in a 'snap of the fingers we went from fun and folklore to absolute horror'.
The car seemed to 'deliberately enter into the pack,' said Mr Collingnon. 
A witness, who gave his name as Theo, told RTBF News: 'I was walking by. I turned around and saw a car running into the troop. It came very fast and didn't brake. It continued and it took a girl 100 metres further.'  
At least six people were killed and 12 people seriously injured when the car ploughed into a crowd gathering for a carnival
Mayor Jacques Gobert told RTBF radio: 'A car drove from the back at high speed. We have a few dozen injured and unfortunately several people who are killed'
Prosecutor Damien Verheyen said 26 people were injured in the incident, including 'ten people whose life is in danger'
The injured have been rushed to La Louviere hospital, and many have been placed in intensive care. 
Belgian Prime Minister Alexander De Croo deplored the 'horrible news' in which 'a community gathering to celebrate has been hit in the heart', he wrote on Twitter.
De Croo and other ministers rushed to the scene along with Belgium's King Philippe who met first responders in the Strepy-Bracquegnies sporting hall, where the morning's carnival procession began. 
'Deepest condolences to the families and friends of those killed and injured in the incident this morning', said Belgian Interior Minister Annelies Verlinden, who also visited the scene on Sunday.
'What should have been a great party turned into a tragedy. We are monitoring the situation closely.' 
The RIAAL La Louvriere football team said that one of the victims was a steward at the club and that a match scheduled later on Sunday was cancelled.
'Words fail us,' the team wrote on its Facebook page.
Video taken from the scene before the incident appeared to show locals setting up the carnival during the early hours of Sunday morning.  
Relatives of the victims arrive at the sports hall in Strepy Bracquegnies, Belgium, on Sunday morning
A police officer stands guard at the scene in Strepy Bracquegnies, Belgium, on Sunday morning
'This Sunday morning, a vehicle collided with… a group of around 100 people which had just left the sports hall to go back up to the centre of the village,' the mayor's office said in a statement. 
Local councillor Xavier Papier said: 'What was supposed to be the return of the joy of partying together turns into a horrible tragedy.
'This morning, we are all linked to Strépy-Bracquegnies, to the bereaved families and to the wounded by this horrific act.'
Olivier Destrebecq, another local councillor, said: 'horror and dread has this morning surrounded the Strépy-Bracquegnies carnival.
'Appearing out of nowhere, a car speeded into the crowd that had gathered. A heartfelt thought for these people and their families.'
And MP Sophie Pécrials said: 'I have no words! It was meant to be a Sunday of celebration, reunions, and smiles. Now it's a black Sunday for everyone in the region.' 
In neighbouring France, just a few kilometres from the scene of the tragedy, President Emmanuel Macron 'assured the Belgian prime minister of his support and friendship after this tragedy', his office said.
Source: Read Full Article