Suella Braverman speeding row is 'witch-hunt', allies claim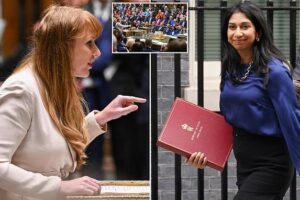 Suella Braverman speeding row is a 'witch-hunt', the Home Secretary's allies claim as Labour steps up calls for an inquiry into her handling of a ticket
Sunak deciding to ask ethics chief to investigate if she broke ministerial code
Braverman was caught speeding last summer when she was attorney general
Allies of Suella Braverman last night warned of a 'witch-hunt' as Labour stepped up calls for an inquiry into her handling of a speeding ticket.
Tory MPs rallied round the Home Secretary over revelations that she asked officials for help in trying to arrange a private speed awareness course.
Rishi Sunak will decide this morning whether to ask his ethics chief Sir Laurie Magnus to investigate claims she broke the ministerial code by asking civil servants to help with a personal matter. The PM has held talks with Mrs Braverman about the issue.
MPs were told the Home Secretary had been asked to provide 'further information' about the incident. Some Downing Street figures are said to be frustrated by the Home Office's failure to quickly produce a comprehensive version of events.
The Mail on Sunday revealed at the weekend that Mrs Braverman was caught speeding last summer when she was attorney general. She was given the option of taking three penalty points or doing a speed awareness course.
Home Secretary Suella Braverman attends the weekly government cabinet meeting at 10 Downing Street
Labour has called for Sir Laurie to investigate, with deputy leader Angela Rayner yesterday accusing the PM of 'dither and delay'
After becoming Home Secretary she allegedly asked officials whether they could arrange a one-to-one course to avoid publicity. Officials refused, warning it would breach the civil service code.
Mrs Braverman admitted speeding, paying a fine and taking penalty points on her driving licence, but insists she has done 'nothing untoward'.
Labour has called for Sir Laurie to investigate, with deputy leader Angela Rayner yesterday accusing the PM of 'dither and delay'.
Rishi's praise for Raab
Rishi Sunak yesterday thanked Dominic Raab for being 'dedicated and loyal' after the former deputy prime minister revealed he would stand down at the next general election.
After 13 years in Parliament, father-of-two Mr Raab said he would not seek re-election because he had become 'increasingly concerned… about the pressure the job has placed on my young family'.
The Prime Minister's official spokesman said that Mr Sunak 'thanks him for being a dedicated and loyal public servant, for his services to this government and to his constituents'.
But Tory MPs lined up in the Commons yesterday to defend the Home Secretary – and even some Labour figures acknowledged the row was a storm in a teacup.
Tory grandee Sir Edward Leigh said: 'What is wrong with this country? We used to have proper scandals about sex or money, or about prime ministers invading Iraq on dodgy evidence where hundreds of thousands of people died.
'All this moral outrage about a minister who asked her private office about something and took their advice is ludicrous. 
'We all know what this is all about: the opposition are attacking a good Home Secretary, who is trying to attack the real scandal of mass immigration to this country.'
Jacob Rees-Mogg described the row as a 'non-story'. The former business secretary added: 'It would be extremely unfortunate for the Prime Minister to do anything other than to move on.'
Former Tory leader Lord Hague suggested she should be given a 'rap over the knuckles', but should not lose her job, while former minister Jonathan Gullis said the Home Secretary faced a 'witch-hunt from the Labour Party'. 
Meanwhile, former Labour minister Chris Mullin said: 'I am, to put it mildly, no fan of Suella Braverman, but for the life of me I cannot get excited about this latest piece of nonsense. It is certainly not a resigning matter.'
Whitehall sources suggested Mrs Braverman was unlikely to be forced to resign even if she is found to have committed a minor breach of the ministerial code.
Tory MPs lined up in the Commons yesterday to defend the Home Secretary – and even some Labour figures acknowledged the row was a storm in a teacup
Tory grandee Sir Edward Leigh (pictured) said: 'What is wrong with this country? We used to have proper scandals about sex or money, or about prime ministers invading Iraq on dodgy evidence where hundreds of thousands of people died'
Source: Read Full Article