Suella Braverman updates — Rishi Sunak SACKS Home Secretary after police comments in huge cabinet reshuffle | The Sun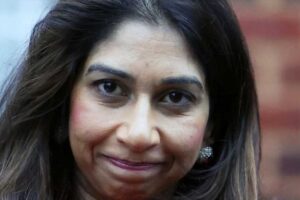 CONTROVERSIAL Home Secretary Suella Braverman has been SACKED as part of a huge cabinet reshuffle by the PM.
Braverman sparked outrage among some Conservatives after accusing the Met Police of bias towards left-wing protesters amid another weekend of pro-Palestine marches.
Following her sacking, she said: "It has been the greatest privilege of my life to serve as home secretary.
"I will have more to say in due course."
The ex-Home Secretary was the first casualty in a major cabinet reshuffle by Rishi Sunak, as the Tory leader looks to secure votes ahead of an impending general election.
Read our Live Blog below for the latest news and updates…
By Henry Moore


Schools minister quits

Schools minister Nick Gibb is standing down as minister and WON'T run at the next election.

"Over the last few weeks I have been discussing taking up a diplomatic role after the general election," he said this morning.

"To enable me to do so I have asked the prime minister if I can step down from the government at the reshuffle and he has agreed."

By Henry Moore


Scotland's First Minister slams Suella Braverman

In a post on X, formerly known as Twitter, Humza Yousaf wrote: "Never has someone been so unfit for public office as Suella Braverman.

"At a time when we need those in government to bring communities together, she revelled in fanning the flames of division.

"The Tories are out of ideas and out of time, there should be a general election now."

By Henry Moore


BREAKING: James Cleverly confirmed as Home Secretary

The Conservatives have confirmed James Cleverly as the new Home Secretary.

He has served as the MP for Braintree in Essex since 2015, playing key roles in several government departments.
By Henry Moore


How can David Cameron be Foreign Sec if he isn't an MP?

David Cameron is no longer an MP, so how can he become a Foreign Secretary?

Well, he will need to be sworn into the House of Lords ASAP in order to take on the role.

By Henry Moore


In pictures: Cameron in Downing Street

David Cameron has been pictured in Downing Street this morning.

While it has not been confirmed, reports from multiple outlets suggest he could be the next Foreign Secretary.

By Henry Moore


Not the first time

This is not the first time Suella Braverman has left her post as Home Sec.

She was forced to resign in 2022 during Liz Truss' doomed premiership.

This sparked a revolt from MPs that led to Rishi Sunak being named PM.

By Henry Moore


Who could replace Suella Braverman?

It is looking likely that Foreign Sec James Cleverly will take on the role of Home Sec following Suella Braverman's sacking.

He was spotted outside Downing Street this morning.

David Cameron could be set to take over Cleverly's role in the coming hours.

By Henry Moore


Tory MP backs Braverman

One Tory MP has already hit out at Rishi Sunak for his decision to sack Suella Braverman.

Andrea Jenkyns took to X/Twitter to slam the PM.

She wrote: "I support @SuellaBraverman Sacked for speaking the truth. Bad call by Rishi caving in to the left!"

By Henry Moore


Suella Braverman makes statement amid sacking

In a statement, Mrs Braverman said: "It has been the greatest privilege of my life to serve as home secretary.

"I will have more to say in due course."
By Henry Moore


BREAKING: Former PM arrives at No.10

Former PM David Cameron has been pictured arriving at 10 Downing Street amid today's cabinet reshuffle.

Reports from the BBC suggest he could be in line to become the next Foreign Secretary.

By Henry Moore


James Cleverly is 'named new Home Sec' 

James Cleverly is set to be named the new Home Secretary today following Suella Braverman's sacking, the Sun understands.

Foreign Secretary Cleverly was seen entering 10 Downing Street this morning after former Home Secretary Braverman was sacked.

RISHI RESHUFFLE

New Home Sec confirmed after Suella Braverman is sacked in major reshuffle

By Henry Moore


In pictures: Braverman's brave face amid sacking

Suella Braverman put on a brave face this morning amid her sacking as Home Secretary.

By Henry Moore


Suella Braverman sacked as Rishi prepares to announce huge cabinet reshuffle

Home Secretary Suella Braverman has been sacked today after comments about the Met Police ahead of pro-Palestine marches.

The ex-Home Secretary sparked outrage among some Conservatives after accusing the Met of favouriting left-wing pro-Palestine protestors over right-wing marches.

Embattled Rishi Sunak will conduct a major reshuffle TODAY amid the cabinet chaos.

SUELLA SACKED

Suella Braverman is FIRED as Home Secretary after Met Police claims
Source: Read Full Article