Teachers quit union over 'weakest' workplace agreement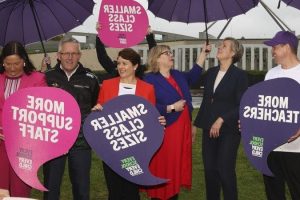 Victorian state school teachers are quitting the Australian Education Union (AEU), accusing it of signing a weak workplace agreement that effectively delivers them a pay cut instead of a pay rise.
Sixteen teachers at Kew High School – where AEU branch president Meredith Peace once taught – have issued a letter to AEU state leaders, saying they sold school teachers short after the toughest two years of their careers and calling on them to resign.
"Staff at the AEU and our government ministers retreated to safe and sensible work-from-home arrangements whilst state school teachers remained, in 2020, prior to a vaccine, one of the last to leave the workplace," the letter said.
The teachers said Victorian teachers should have gone on strike rather than accept a 2 per cent pay rise.
Australian Education Union Victorian branch president Meredith Peace said the union had negotiated significant workload relief for members.Credit:Alex Ellinghausen
The Fair Work Commission increased the minimum wage by 5.2 per cent on Wednesday and the Reserve Bank forecast inflation would rise to 7 per cent by the end of the year.
"Whilst the NSW teachers' union sought to capitalise on positive public sentiment and teacher shortages, waging a campaign of strikes, you have denied us our right to strike, as we had previously voted to do, and delivered us the weakest EBA [enterprise bargaining agreement] we can remember receiving," the letter continued.
"We would actually be in a perfect position to bargain harder since there is an election coming up in November and the state government will not want to go to an election with an unresolved wage dispute with teachers still active."
Among the signatories is Kew High School literacy specialist Dr Karen Lynch, who said she was so dismayed about the agreement that she was walking away from the union after 20 years.
The workplace agreement provides teachers with a 2 per cent annual pay rise over the next four years and less time teaching in classrooms. Staff will also get an extra pupil-free day for curriculum planning. It was approved by a relatively low number of members, at 61.8 per cent.
The pay rise for state school staff is well below the current inflation rate of 5.1 per cent and the 7 per cent annual pay rise initially sought by the union.
Under the deal, which has yet to be approved by the industrial umpire, teachers will have an hour-and-a-half less teaching time per week, which will be phased in over two years. This will be achieved by recruiting up to 1900 more teachers.
In addition, teachers will get hour-for-hour time in lieu for out-of-hours work they do on school activities, including camps, excursions and information nights. Some principals have called the time-in-lieu provision unaffordable because the agreement does not include funding for it.
For four years, Kon Rigopoulos was president of the AEU sub-branch at Willmott Park Primary School in Craigieburn. He is one of eight members of the branch to quit the union in protest.
"If the union took an approach that actually advocated what teachers want, I'm sure I'd join again and pick up the role as president," he said. "But at the moment, it's very hard to join their fight when I don't believe in their fight."
Toni Frazer, a teacher and interventions tutor in a south-eastern Melbourne secondary school, said: "The people who should have fought for us didn't."
Frazer and her colleagues have also quit the union.
"$60 a month adds up, especially when you see how little they care. The mass exodus that followed the vote highlights the discontent," she said.
In response, Peace said the union had negotiated significant workload relief on behalf of members, including the first reduction in face-to-face teaching hours in 35 years.
"This workload relief formed the heart of our log of claims in direct response to members telling us that unsustainable workloads were the highest priority to address," she said.
It's understood the union has 50,000 members.
Education Minister James Merlino has described the agreement as an outstanding deal for teachers, principals and staff working in Victorian government schools.
The Morning Edition newsletter is our guide to the day's most important and interesting stories, analysis and insights. Sign up here.
Most Viewed in National
From our partners
Source: Read Full Article