Theatre issues trigger warning for 'cooked eggs' during production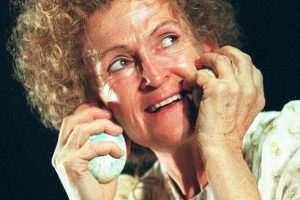 Theatre issues trigger warning for production which 'involves the handling of a cooked egg'
The Young Vic Theatre warned: 'cooked eggs are handled during the show'
It also warns about themes of mental illness, death and sexual violence
A theatre in London has issued a trigger warning to its audiences because the show involves 'the handling of a cooked egg'.
The Young Vic Theatre in London warned audiences about several themes in their upcoming revival of Zinnie Harris's Further than the Furthest Thing. 
In the first stage of its advice to theatre-goers, the Young Vic said the production would contain 'strong language, themes of climate displacement and xenophobia, and depictions of pregnancy and infant homicide'.
The theatre also warned about themes of mental illness, death, 'implied suicide' and sexual violence. 
However, in the final piece of advice on the theatre's website it reads: 'This show involves the handling of cooked egg.'
Paola Dionisotti in 2000 as Mill Laverello in Further than the Furthest Thing where she can be seen using cooked eggs as part of her performance 
This is the trigger warning issued by the Young Vic Theatre in London
It added that there is a warning for anyone with an egg allergy because 'cooked eggs are handled during the show'.
Last year it was found that university bosses had slapped trigger warnings on more than 1,000 texts including works by Chaucer, Shakespeare, and Dickens over 'challenging' content.
Further than the Furthest Thing is set on a remote volcanic island in the middle of the Atlantic where a community has lived undisturbed for centuries.
Then, when one of the inhabitants brings an outsider to the island their way of life is changed forever.
Based on real events on the island of Tristan da Cunha, Jennifer Tang's visionary interpretation of Zinnie Harris's award-winning modern classic is a story of a community haunted by its past and under threat from a modern world in crisis.
The play also has warnings about mental illness, death, 'implied suicide' and sexual violence
Source: Read Full Article