Tony Abbott in Taiwan to build support among 'like-minded countries'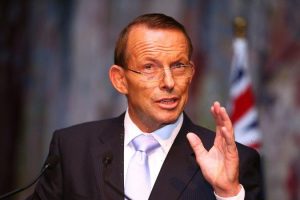 Singapore: Tony Abbott will use a series of meetings with Taiwan's President Tsai Ing-Wen and the head of her National Security Council to bolster Australia's relationship with the threatened democratic island.
Australia's former prime minister is the highest-level visitor to Taipei since Malcolm Turnbull last year. Turnbull and former Labor prime minister Kevin Rudd have become increasingly vocal in their international criticism of their successor, Scott Morrison, making Abbott a valuable diplomatic asset for the Coalition.
Former prime minister Tony Abbott. Credit:Getty Images
Abbott is officially visiting in a "private capacity" but his meetings with Tsai and the top brass of the foreign affairs and security establishment will allow him to act as an interlocutor with the Morrison government as it attempts to navigate an already fraught relationship with Beijing.
Sources with knowledge of his trip who were not authorised to speak publicly said, "where helpful", Abbott – like Bob Hawke and Paul Keating who used their post-prime ministerial life to bolster Australia's relationship with China – "wants to try and do the same with like-minded countries". Abbott used other high-profile visits to the United Kingdom in 2019 to lobby for its pivot to the Indo-Pacific, and India in August to restart talks for a stalled Australia-India free trade deal.
A spokesman for the Taiwanese Foreign Ministry said Abbott "is a firm friend of our country and has spoken for Taiwan many times".
"Former prime minister Abbott's visit to Taiwan should help to enhance Taiwan's role in the international community and in the Indo-Pacific region," the spokesman said.
No serving ministers have had official contact with Taipei since Australia recognised Beijing in the 1970s, forcing all communication to go through Australia's representative office in Taiwan. The office is not an embassy but allows for sub-ministerial contact between bureaucrats on issues such as trade.
The system has been in place for decades to avoid antagonising the Chinese Communist Party, which regards its neighbour as an "inalienable part of China" since a rival government was established in Taiwan in 1949 after decades of civil war.
The growing tensions over the island and Taiwan's rising international clout have forced several governments to navigate China's diplomatic blockade. Three French senators including former minister of defence Alain Richard are also in Taipei this week.
Taiwan's application to join the giant regional trade network – the Trans-Pacific Partnership – is expected to be a key part of Abbott's speech at Friday's Yushan Forum. Abbott has publicly supported Taiwan's application to join the network – a move which could also enhance informal engagement between Taiwanese and Australian ministers.
"Given that China is not a member of the TPP, is unlikely to become a member of the TPP, and is already in a state of high dudgeon against Australia and many other countries, I don't see that China is going to be any more upset than it already is," Abbott told an Australian trade committee hearing last week.
Helicopters fly over President Office with Taiwan National flag during the National Day celebrations in Taipei, Taiwan, last year.Credit:AP
The trip comes after China sent dozens of bombers, fighter jets and anti-submarine warfare planes towards the Taiwan Strait over the past week.
The aerial harassment, which has been sandwiched between a surge in nationalism for China's National Day on October 1 and Taiwan's own national day on October 10, forced Taiwan to scramble scores of planes in response and an intervention from US President Joe Biden on Wednesday AEDT.
Biden said he had spoken to Xi Jinping about Taiwan. "We agree we'll abide by the Taiwan agreement," he said, referring to his September call with the Chinese President. "We made it clear that I don't think he should be doing anything other than abiding by the agreement."
The statement appeared to refer to the US One-China Policy and its Taiwan Relations Act which predicates the US recognition of China's position on Taiwan on the basis that any disputes over the island be resolved by peaceful means. Taiwan officially maintains a position of ambiguity in an attempt to keep the peace – operating separately from China, while not formally declaring international independence.
Taiwanese President Tsai Ing-wen speaks with military personnel last week during Taiwan's five-day Han Guang military exercise designed to prepare the island's forces for an attack by China.Credit:Taiwan Presidential Office
Bonnie Glaser, the director of the Asia Program at the German Marshall Fund of the United States, said the risk of conflict over Taiwan was down to short-term and long-term factors.
"The People's Liberation Army has a window of opportunity. Over the past several decades US military advantages have eroded. Today the US military is not able to intervene quickly or effectively to prevent a Chinese invasion of Taiwan," she told Harvard's Fairbanks Centre for Chinese Studies.
"But as long as there is no danger of Taiwan declaring independence and being supported by the international community. China can accept the uneasy status quo for a long time.
"[China's] strategy I would argue is aimed at inducing a sense of despair. Among the Taiwanese people so that they eventually conclude that their only viable future [is] to join the mainland. China wants to win without fighting."
In an opinion piece for Foreign Affairs magazine published on Tuesday, Tsai said the daily intrusions by the PLA had not changed the island's position on cross-strait relations: "Taiwan will not bend to pressure".
"They should remember that if Taiwan were to fall, the consequences would be catastrophic for regional peace and the democratic alliance system," she said.
Get a note direct from our foreign correspondents on what's making headlines around the world. Sign up for the weekly What in the World newsletter here.
Most Viewed in World
From our partners
Source: Read Full Article