UK weather – Met Office issues ICE warnings with travel disruption expected, causing chaos as temperatures plunge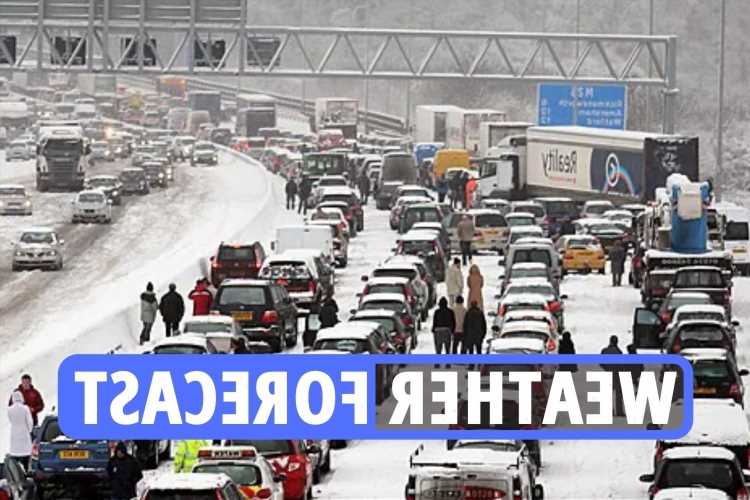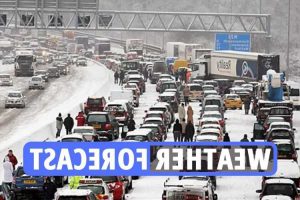 THE MET Office have put out two yellow ice warnings across the UK that will remain in place until tomorrow.
The Met Office said Brits should be prepared for an icy Friday night before a chilly weekend.
The forecaster warned there will probably be icy patches forming on some untreated roads, pavements and cycle paths.
The Met Office said: "Early wintry showers in the north, and rain, sleet and hill snow further south will leave surfaces cold and wet by early evening.
"Clear spells for a time will allow ice to form in places, particularly for evening commuters, before temperatures trend up after midnight.
"The warning area highlights areas considered most likely to see ice."
Read our weather live blog for the latest news and forecasts
Louis Allwood


Met Office yellow warning for ICE

Two yellow weather warnings for ice will be in place until midnight on Friday, with drivers warned of "potentially tricky conditions".

The Met Office said Brits should be prepared for an icy Friday night before a chilly weekend.

The forecaster warned there will probably be icy patches forming on some untreated roads, pavements and cycle paths – meaning accidents and injuries are more likely.

The Met Office said: "Early wintry showers in the north, and rain, sleet and hill snow further south will leave surfaces cold and wet by early evening.

"Clear spells for a time will allow ice to form in places, particularly for evening commuters, before temperatures trend up after midnight.

"The warning area highlights areas considered most likely to see ice."

Louis Allwood


Cold weather payments

Here is the full list of postcodes that qualify for the payments.

Aviemore

Braemar

Aboyne

Loch Glascarnoch

IV4
IV6
IV7
IV14
IV16
IV23-24
IV63

How to stay warm when outside

With the weather getting chillier and frostier, you'll want to wrap up warm.

Here are some good tips for staying all snugly and cosy when outdoors:

Prewarm your clothes.
Invest in some quality thermals.
Fleece leggings.
Hand warmers.
Cover every inch of skin.
Eat fatty foods.
Thermal flask.
Keep moving.
Keep hydrated.
Keep your head covered.
Tactical scarf-wearing – including keeping your nose and mouth covered

Louis Allwood


Those in Manchester will need to wrap up warm

Friday's showers fading through the evening and winds easing.

A frost and some ice developing early in the night but becoming cloudier and milder through the early hours of Saturday as rain, heavy at times, moves in and winds strengthen.

Minimum temperature -3 °C.

Louis Allwood


It will be a freezing night for Edinburgh

Dry with clear skies and a widespread frost at first.

Then becoming cloudy with freshening winds and temperatures recovering.

Rain with snow on high ground spreading eastwards later tonight. Minimum temperature -3 °C.

Louis Allwood


22nd January to 5th February UK forecast

Conditions expected to remain broadly unsettled and changeable through this period with occasional spells of cold, wet and windy weather moving across from the Atlantic.

Western and northwestern parts likely to see the wettest and windiest conditions overall whilst eastern and southeastern parts probably seeing the most of any drier spells.

Temperatures likely to be slightly above average overall throughout, but there remains a possibility of short-lived colder spells.

Colder spells likely to bring a risk of snow at times, though mostly over high ground in the north.

Possibility that stronger systems will bring gales to western and northwestern areas throughout this period.

Louis Allwood


Cardiff forecast for this evening

Friday's showers fading through the evening and winds easing.

A frost and some ice developing early in the night but becoming cloudier and milder from the west as rain spreads eastwards and winds pick up again.

Minimum temperature -2 °C.

Louis Allwood


Could be another frosty night for Londoners

Any residual showers will rapidly fade, leaving clear spells and allowing a slight frost to develop.

Cloud then quickly spreads east, followed by outbreaks of locally heavy rain after midnight.

Minimum temperature -1 °C.

Louis Allwood


12th to 21st January

High pressure is expected across southern and central parts of the UK at the start of this period, bringing settled conditions and light winds, though it's likely to be rather cloudy in some areas.

Temperatures will be generally around average, but there is a risk of some colder nights with local frost and fog.

Spells of rain, drizzle and stronger winds are likely further north, with temperatures near to or slightly above average here.

Confidence decreases through the period, but a return to generally more unsettled conditions across the UK is likely later on, with western and northwestern parts expected to continue to see the wettest and windiest weather.

Temperatures likely to remain around average.

Louis Allwood


Sunday to Tuesday outlook

Sunday dry and bright for many areas, although blustery showers in the northwest.

Cloud and rain reaching all areas through Monday, clearing southeast, and brightening from the northwest through Tuesday.

Louis Allwood


Drivers could be fined of £100 for wearing the wrong shoes when it snows

Thicker boots may keep your feet warm in the snow but they could get you into trouble and you with a heavy fine if you drive in them.

While wearing inappropriate shoes to drive isn't technically illegal, careless driving due to unsuitable footwear can get you into trouble.

Rule 97 of the Highway Code states that before heading off on a drive, you must ensure that "clothing and footwear do not prevent you using the controls in a correct manner".

If you are stopped by the police for careless driving and they decide your footwear caused the problem, you can face up to a £100 on-the-spot fine plus penalty points on your licence.

If you do need heavier boots for snow or cold weather conditions when you're out and about, it's best to take an additional, safer pair of shoes to drive in too.

Louis Allwood


Today's UK weather forecast

Blustery, heavy wintry showers affecting many areas, especially the west and northwest where the heaviest and most frequent showers, including some snow, will be.

More persistent rain and hill snow for south Wales and parts of southern England. Feeling cold.

John Hall


Brits to see a new weather front from the Atlantic 

Forecaster Greg Dewhurst said: "It's quite a contrast compared to the record breaking New Year's we've just seen.

"We've seen a big drop off in temperatures and it's going to stay like that for most of the week.

"It's well below the January average of 6C.

"We're going to see wintry showers, mainly down the western edge of the country but we could also see some in the east.

"On Thursday a new weather front from the Atlantic will move eastwards bringing with it rain and hill snow.

"It'll affect the north and west, parts of the Lake District and Wales, but we could also see some flurries further south."

John Hall


Make your car visible in poor winter weather

You can be fined up to £1,000 for failing to switch your car lights on when you're driving.

Make sure they're all working before you set out on your journey, and turn them on if you have to get out to clear snow.

If you use fog lights, remember to switch them off when visibility improves so they don't dazzle other drivers or obscure your brake lights.

John Hall


UK weather outlook for Friday and Saturday

Sunny spells on Friday, staying dry to the east.

Risk of showers for Wales, western England, Scotland and Northern Ireland, turning wintry, especially to the north. A moderate westerly breeze.

Unsettled for all on Saturday with rain for much of the day. Sunshine and showers in the late afternoon.

John Hall


A two-day forecast

Make sure you're weather aware before you step outside, as it's going to get chillier and chillier.

TODAY (THURSDAY): High: 10C Overnight low: -2C Rain and hill snow moving east, followed by wintry showers

FRIDAY: High: 8C Overnight low: -4C Sunny spells, wintry showers
ends

John Hall


End of January outlook

Through the rest of January, a continuation of the rather changeable regime is expected with spells of wet and windy weather interspersed by drier, brighter periods.

Temperatures are likely to remain close to or slightly above average due to a mixture of mild spells and shorter-lived colder periods.

These shorter-lived colder periods may still allow for some snow, but this will typically fall over hills in the north.

Towards the end of this period, there is a tentative sign of more settled spells developing, particularly across the south which would increase the chance of overnight frost and fog here.

John Hall


Three tips to know before driving in snow and ice

Driving expert Jack Cousens, head of roads policy at the AA, has some useful advice.

He said drivers must take it slow and leave plenty of space for the car ahead in case they skid off the road.

And with motorways expected to be busier than ever as Brits rush to celebrate a family Christmas for the first time in two years, staying out of danger is extremely important.

Here are Jack's top tips:

Make space, it's not a race
Slow and steady
Beware of 'black ice'

Mercury could fall to as low as -10C

Temperatures are set to plunge within the next couple of weeks – potentially causing travel chaos.

The mercury could fall to as low as -10C.

Coral, the bookies, now has January at 6-4 to be the coldest on record.

The firm go 2-1 for this winter to be the chilliest ever in the UK.

Coral's John Hill said: "We've enjoyed some unseasonable mild temperatures over the last few days but that is set to come to a crashing end later this week.

"With snow and freezing temperatures on their way, we have slashed the odds in half on this month ending as a record cold January."

This month will see drop in temperatures, says Met Office expert

Met Office forecaster Craig Snell said the average temperature in December and the beginning of January is usually around 7C or 8C, with the warmer weather due to a south-westerly wind making its way across the country.

The higher temperatures are usually localised, but "plenty of places" have seen highs of 15C over December.

However, he added that January could see a drop in temperatures because of an Arctic chill sweeping through from next week.

This week will be feeling colder for all

Met Office forecasters warned: "Cold northerly air dives south across the whole of the UK with brisk winds.

"It's feeling colder for all, especially in the wind."

In the capital, temperatures will plummet by 10C, from 16C at the weekend to just 6C today.

Meteorologist Simon Partridge said we're facing a "shock to the system" as the chilly winds make it feel as cold as -2C.

"It will definitely be colder, so if you're going out, think about an extra layer," he said.

"You might need anything to keep the wind out because it's not going to be pretty."

John Hall


What is a Thundersnow?

It is essentially a thunderstorm in cold weather.

If it's cold enough then instead of rain, the thunderstorms produce snow.

This, along with the usual thunder and lightning is called a thundersnow.

It is often very atmospheric.

Th snow dampens the sound of the thunder and reflects the lightning making it even brighter.

John Hall


How cold does it have to get in order to be sent home?

There isn't a set temperature where employers have to send their employees home because it's too cold.

And since October 2012, there's no minimum temperatures in English schools, either.

The School Premises (England) Regulations 2012 don't specify a safe classroom temperature, although the National Education Union advises a minimum of 18C.

In the workplace, it's the employer's responsibility to ensure that the workplace has additional heating if the temperatures do get too cold.

Employers are recommended to include flexible working hours or rotas to help reduce the effects of a cold snap – but they don't have to.

Kate Palmer, head of advisory at employment law consultancy Peninsula, told The Sun an employer has no obligation to pay an employee if they fail to turn up for work because:

The weather is bad
Public transport is not running
They miss hours because they turned up late

Plus, employees do not have a legal right to be paid in the event they take an emergency day off with their children.

John Hall


When is it too cold to go to work? (Continued…)

Employers are not required to pay employees if they cannot get to work in bad weather, according to government rights.

You could be asked to work from home, but if this isn't possible you may be asked to take unpaid or annual leave.

In the workplace, the mercury shouldn't dip below 16C and employers should try to increase temperature in the office or workplace.

The Health and Safety Executive (HSE) states that a workplace should provide "reasonable comfort".

Its Workplace Regulations 1999 state employers should "assess risks to health and safety and act where necessary (i.e. if the workplace temperature drops below the minimum guideline or if it is felt the temperature is too high)".

John Hall


When is it too cold to go to work?

Snow and ice have reappeared across Britain after a record mild spell to start the new year.

And though everyone loves a snow day, there's unfortunately no guarantee of a day off school or work just because it's snowing.

There is also no specific law around minimum or maximum working temperatures, although there are guidelines.

If it is safe and reasonable to travel to work, then you should do so.

But if it isn't safe, contact your employer and check the company handbook.

Keep in mind that government guidance in all four UK nations currently advises you should work from home if it's practical, too.

Source: Read Full Article