Victoria records nine deaths, 1365 new cases as WHO urges calm over Omicron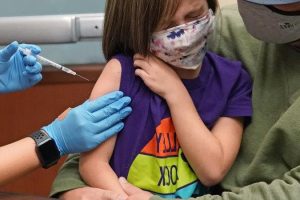 For our free coronavirus pandemic coverage, learn more here.
Victoria has recorded nine deaths and 1365 new COVID-19 cases in the 24 hours to Saturday.
The state has 288 people in hospital with the virus and 67,545 tests were carried out on Friday.
Victoria has 91 per cent of peopled aged 12 and over who have had two doses of vaccine.
As health authorities continued to watch for more Omicron cases, the World Health Organisation has urged Australians to avoid panic while scientists seek out more information about the new variant of COVID-19.
WHO spokesperson Margaret Harris said researchers around the world were studying Omicron to see if vaccines had any impact on its infectivity.
"The reason we raised it to the variant-of-concern level was really because we saw many more mutations in this one than we have seen in any of the previous variants and quite a few of those mutations were in the spike area of the virus," Dr Harris told ABC News 24 on Saturday.
"So for all those reasons we raised the world's awareness to look out for this, but it's important to remember it's a variant of concern not a variant of panic."
Dr Harris said there were several key questions that needed to be answered about Omicron.
"We had a call with more than 400 scientists on Monday and it was agreed to do all the work, neutralisation studies, to look at whether or not the antibodies [are] generated by vaccines," Dr Harris said.
NSW reported one death and 325 new cases in the 24 hours to Saturday morning, while 92.7 per cent of residents aged 16 and over have had two doses of a COVID-19 vaccine.
But NSW Health officials are still on the watch for more Omicron variant cases after an outbreak was detected at a school this week.
Meanwhile,Health Minister Greg Hunt has flagged that coronavirus vaccines for young children are expected to get the green light in coming days.
The rollout of the vaccinations is expected to start in January, with the first shipment of children's Pfizer doses due to land in Australia before Christmas.
Mr Hunt said the Therapeutic Goods Administration and the Australian Technical Advisory Group on Immunisation were likely to make decisions on Pfizer vaccines for young children and green-lighting Moderna as a booster before the end of the year.
Health Minister Greg Hunt said children could be able to get the vaccine from early January. Credit:Alex Ellinghausen
Pfizer applied for a smaller dose of its vaccine to be approved for children aged between five and 11 over October and November, but the regulator and ATAGI wanted more real-world data from the US before signing off.
The timing of third doses for everyone aged 18 and up will remain at six months, after Australia's vaccine experts reconsidered the data in light of the new Omicron strain that has now been detected in more than a dozen people in Australia. So far, 495,000 people have had a booster.
NSW Health Minister Brad Hazzard has called on the national vaccine advisory group to expedite approval of the vaccine for children as the Omicron variant spreads in his state.
Mr Hazzard urged the community to maintain perspective about the outbreak as NSW recorded 13 cases of the new strain and health authorities carried out urgent genomic testing of another 10 COVID-19 cases after possible transmission occurred at an indoor climbing centre in western Sydney.
The Morning Edition newsletter is our guide to the day's most important and interesting stories, analysis and insights. Sign up here.
Most Viewed in National
From our partners
Source: Read Full Article