Weather forecast UK – Nine inches of heavy snow to fall NEXT WEEK as brutal Icelandic winds send temperatures plummeting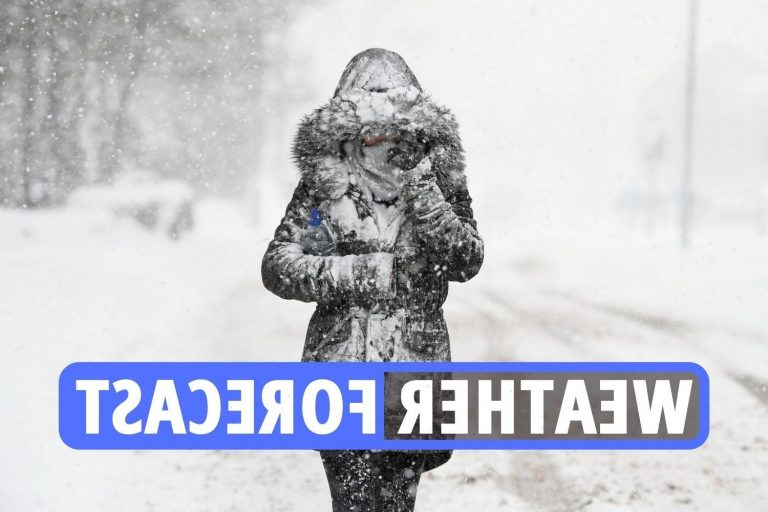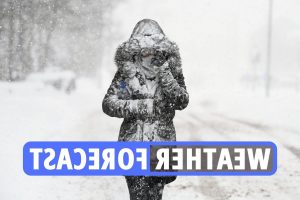 BRITAIN will bit hit by a brutal NINE INCHES of snow within a matter of days as freezing weather from Iceland grips the country.
The heavy snowfall is forecast to fall across western Scotland late next week with further "wintry weather" further south between November 22 and December 1.
It comes as a blast of "Icelandic air" hits the UK sending temperatures plummeting across the country.
BBC weather's forecast for the month reads: "A surge of colder Icelandic air will spill across the UK over the final ten days of November and linger into the first few days of December.
"The most prominent drivers of this pattern will be high pressure in the Atlantic and a trough over Continental Europe."
Read our weather live blog for the latest forecasts and updates…
John Hall


Why are energy bills so high? (continued)

The high prices have also been made worse by political tensions in Europe.

A delay to a controversial gas pipe between Russia and Germany, a flashpoint in the ongoing energy crisis, sent the cost of UK gas up again this week.

Russia has put Germany's approval of the Nord Stream 2 pipeline at the heart of talks over supplies.

Germany's energy regulator has suspended approval of the project, which would see a natural gas pipeline run from Russia to Germany.

Since approval was suspended, UK and EU wholesale gas prices have surged an eye-watering 17%.

John Hall


Don't switch!

Gas and electricity prices are going up.

The standard advice in such a situation is to shop around for the best fixed deal.

But energy suppliers have been pulling their cheapest tariffs off the market as their own costs soar.

Contrary to usual advice, the best thing for people to do at the moment is wait.

If you're on the standard tariff then you'll likely be getting a better price right now than you would from a fixed deal. 

John Hall


Five things (continued)

The insurer also urges drivers to "fully de-ice" their vehicles prior to heading off – including clearing snow from the windows, lights and the roof to help with visibility.

AA spokesman Tony Rich told the Sun: "Before setting off, it's important to fully de-ice the car which includes clearing snow from the windows, lights and roof so you can see and be seen.

"It's also worth having winter essentials in the car such as warm, waterproof layers, a shovel, a torch, fully charged mobile phone and a flask of hot drink."
John Hall


Five things not to leave the house without

The AA has drawn up its list of the essential things any driver needs in their car during cold weather.

In case of a breakdown, drivers have been told to bring with them a fully-charged phone to call for help.

A flask of hot drink is another must-have to fend off the cold when stationary – while a torch can be used to help see as daylight hours get shorter.

Meanwhile, in case an unfortunate skid sends them off the road, a shovel is needed to make sure drivers can free their cars if stuck in snow.

John Hall


Walking in a winter wonderland

Winter Wonderland is returning to London's Hyde Park as the countdown to Christmas gets underway.

The family-friendly festive attraction was cancelled last year due to the pandemic, but organisers are bringing it back with a bang and we've got all the details.

Winter Wonderland opens its doors on November 19 and will remain open from 10am to 10pm everyday until it closes on January 3, 2022.

BUT for the first time ever you must prebook your tickets before you are allowed into the park.

This is similar to many other attractions, such as museums, in London so they can monitor the flow of people to reduce the risk of Covid transmission.

John Hall


How do I book Winter Wonderland tickets?

There are three time slots available to book: 10am to 1pm, 1pm to 5pm, and 5pm to 10pm.

Tickets during off-peak times – 10am until 1pm, Monday to Thursday – are free, but tickets for all afternoons and evenings, as well as Friday, Saturday and Sunday mornings, cost between £5 and £7.50.

The entry price is free if more than £20 is spent on pre-paid rides and attractions when booking in advance.

Ticket holders must enter the park within their time slot but are then free to stay for as long as they like.

John Hall


Boost it up

Boosters slash people's Covid risk by two thirds and have set cases falling after they hit record levels in October.

Mass testing shows people given a third dose are 62 per cent less likely to get Covid than the double-jabbed.

And since the rollout kicked in last month, England's infection rate has dropped from 1.72 per cent to 1.57 per cent.

Health officials have urged those who are eligible to get a third dose this winter to stop a third wave of the virus and making this winter as much of a misery as last year's.

John Hall

Something wintery this way comes

Britain is braced for nine INCHES of snow next week as cold wind blows down from the Arctic Circle.

Forecasters predict up to 24cm of the white stuff will fall across north western Scotland next weekend as temperatures plummet.

The Met Office says snow is "likely across higher ground and possibly falling to low levels at times" next week.

And its long-range forecast warns of "a slight chance of some wintry weather" further south from November 22 to December 1.

John Hall


UK braced for 'colder Icelandic air'

BBC Weather has predicted gusts of "colder Icelandic air" will travel down across the UK during the last days of November.

The forecast reads: "A surge of colder Icelandic air will spill across the UK over the final ten days of November and linger into the first few days of December.

"The most prominent drivers of this pattern will be high pressure in the Atlantic and a trough over Continental Europe."

And a "secondary push of colder Icelandic air" is then expected to arrive towards the end of the week, "further dropping temperatures"
John Hall


Snowy Scotland

According to WXCharts, up to 24cm of snow could fall across north western parts of Scotland over the weekend of November 28.

Meanwhile in Wales, snow depth maps suggest it could see 10cm of snow from 26 November. The Midlands could get 6cm.

Wintry flurries are then expected to strengthen and move further south over that weekend, the Express reports.

Temperatures are already expected to plummet this weekend, as the mercury dips by 8C from a balmy 15C today to 7C in the north on Friday.

John Hall


Explained: When not to use your fog lights

If you use your fog lights when it isn't foggy you could be endangering other road users and potentially breaking the law.

Fog lights are very bright, which means they shouldn't be used in normal weather as it could temporarily blind other drivers.

Switching or leaving your fog lights on when it's clear, or if it's just rainy, or in light mist where visibility is greater than 100m, could land you with a fine.

If you use your fog lights incorrectly, you could be fined £30 at the roadside.

However this will not lead to points on your licence.

John Hall


The simple equation to work how much energy you use

Now that energy bills are sky rocketing people will be looking to how they can save money by cutting down on appliance use.

Some may even want to look at alternative heat sources like log burner and electric heaters – but beware of the hidden cost.

Here's the equation you use to work out how much your devices are costing you:

Cost = power (kilowatt) x cost of one kWh (pence) x the length of time (just the one off meal, or over a week or month.)

John Hall


Why are energy bills so high? (continued)

The regulator said the pipeline's operating company needed to be compliant with German law before it would agree to the project.

That's despite the fact that Chancellor Angela Merkel's government has supported the project.

But Boris Johnson has urged Europe to oppose it, saying it risks undermining stability.

There are fears the pipeline will increase Europe's energy dependence on Russia.

As well as that, there are concerns of military action by Russia, which is building up forces near Ukraine.

John Hall


Explained: How much does an electric blanket cost?

Most people use electric blankets by popping them under their sheets for a small amount of time to heat their bed before they get in it.

According to research from Uswitch, they use 100 watts of energy for a double bed – costing 0.8p in total to run for 30 minutes.

That means if you used it seven days a week for this length of time, it would cost you just 5.6p.

Using an electric blanket instead of turning the heating up could also help you shave cash off your bill, Uswitch energy expert Sarah Broomfield said.

"Using an electric blanket to warm the bed may mean you can turn the temperature of your thermostat down, as you will not need your bedroom to be so hot," she said.

John Hall


Leaning into the skid

RAC Breakdown spokesman Simon Williams said: "Winter is the most treacherous time of the year for drivers.

"A good set of tyres is essential to keep the best possible grip on the road, but reducing speed to match the conditions is also vital.

"Black ice is probably the most dangerous of all conditions as drivers don't realise they're on it until it's too late. Going into a skid is scary beyond belief.

"While it's good to know that you should steer into a skid, it's a lot harder to do it when you need to, particularly if it's never happened to you before.

"When driving in the snow you should keep your speed down but try to be in the highest gear possible as this helps to reduce wheel spin."
John Hall


Northern highlights (continued)

The Borealis display was installed as part of the Greenwich+Docklands Festival in August this year, and now it's back as part of a series of outdoor activities being held between now and January 9.

In Grosvenor Square, thousands of white roses will be lit up as part of an everlasting garden display.

Nine of London's bridges – from London to Lambeth – will be illuminated in a separate project, in what is set to be the longest public art project in the world.

In Canary Wharf, 20 light installations will be on show alongside an ice rink and an outdoor food market.

John Hall


Northern highlights

No need to book a holiday to the North Pole this Christmas, the Northern Lights are coming to London.

A series of free outdoor activities have been announced by Sadiq Khan to bring some much-needed joy to the city.

A lights display, named Borealis, will recreate the Northern Lights along the River Thames by shining beams of light into the sky above Guildhall Yard.

The multicoloured lights will shine through clouds and reflect off buildings and trees to mimic the movements of the natural wonder.

The display is free but ticketed, with tickets available to book online now.
Source: Read Full Article