Woman mortified after dogs who attacked her pet are shot dead by cops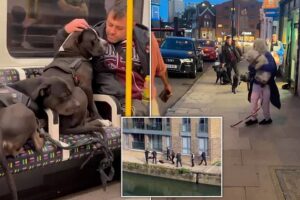 EXCLUSIVE Woman whose pet was attacked by two dogs later shot dead by Met officers is 'mortified' at the killings and has been 'crying ever since' as husband reveals she begged bystanders not to call police
A woman whose pet was attacked by two dogs that were later shot dead by the Metropolitan Police is 'mortified' by the killings and has been 'crying ever since', her husband said today.
The animal lover is said to be 'traumatised' after armed officers gunned down the canines – named Millions and Marshall – by a canal in east London on Sunday. 
The force had been called to the scene in response to the attack on the unnamed woman's rescue pup.
The incident happened just yards from a shabby narrowboat where the owner of the slain dogs lived with his pets. It prominently displays a 'beware of the dog' sign.
Today the woman's husband told MailOnline: 'It's absolutely awful what happened to those dogs. My wife is very upset.'
He explained how he had raced to the scene after his sobbing wife called him to tell him of the attack. But he insisted his wife pleaded with bystanders not to call police as she feared what would happen to the dogs.
Armed officers gunned down the 'out-of-control' animals in east London on Sunday amid reports they had mauled a woman moments earlier
Video of the incident appears to show a female dog owner screaming as she picks up her pet and backs away from Mr Turnbull
READ MORE: Met Police say officers did NOTHING wrong – as witnesses say dogs 'didn't maul a woman, she got tangled in their leads trying to rescue her own pet' 
The husband – who asked for the couple to remain anonymous for fear of reprisals after a backlash over the killings – said his five-year-old rescue dog had been bitten in the face and belly during the attack.
The pet has undergone treatment but it is hoped he will make a full recovery. 
He told MailOnline: 'My wife was traumatised by what happened to the dogs – we both were.
'She didn't want the dogs to get killed. 
'For us a dog's life matters as much as a human's.
'We are dog lovers – we never wanted to see this happen. Two dogs are killed. People feel bad – we feel bad as well.
'My wife has been crying for the dogs ever since.
'We asked the police why they killed the dogs – they didn't answer. They didn't say why they did it.
'My wife didn't call police. She was begging people around not to call police because she was concerned for the dogs and what would happen to them.
'Our dog was attacked. My wife wasn't attacked. She had something to her leg but it is not serious. She didn't go to hospital.
'We don't know if it happened when she was tangled up on our dog's lead or when she fell.
'My wife was knocked into the road. It's a very busy road and it could have been very dangerous.
'My wife was just walking the dog on her lead when he was attacked. She was trying to grab the other dogs.
Footage has since emerged of Mr Turnbull sharing an intimate moment with his dogs, while a second video appears to show the animals confronting another pet in the street days before 
'The other dogs did not have any lead and the man just sat there and did nothing while my dog was being attacked.
'He had friends there who helped but he did nothing and he said nothing.'
Explaining how he was alerted to the incident he said: 'My phone was in the bedroom and my wife had called me seven times. I ran from my house. I found my dog bleeding from his nose and my wife was on the ground crying.
'I got there about five minutes after the attack and it was all over by then. The dogs had been shot and the road was closed off so no-one was allowed to go there.'
He said of the aftermath of the attack: 'My wife is alright but she is very upset.
READ MORE: Animal Rising vow to hold candlelit vigil for two dogs shot dead by armed Met cops 
'It was a really bad few days for us. We couldn't sleep.
'My dog is out of danger and is getting treatment. He's already better and he is going to be alright. We are hoping that in a week or 10 days he will be back to his old self.
'He is a five-year-old rescue dog. We brought him over from Greece. For us he is our baby. It was a really bad experience.'
Today locals claimed that the owner – who was Tazered by police and arrested in the aftermath of the attack – had previously owned three dogs that were put down after they allegedly attacked and killed another dog.
Police said the man had been banned from owning dogs.
One fellow boat owner told how police had been called to the scene after a fight broke out when the dog owner arrived with a group of people three weeks ago.
The scene of Commercial Road, Limehouse, nearby to the spot the two dogs were shot dead
Writing on Facebook Ian Mcintosh said: 'This guy moored up onto boats three weeks ago, drunk and was fighting with someone else.
'One of his dogs jumped off the boat and attacked the other guy. The dogs have been on and off lead and obviously not trained.
'Yesterday I heard dogs barking and I heard gunshots.
'It's the second time police have had to deal with him – but always the dogs pay for it.
'Hence, I'm moving mooring soon. His badly moored boats are still here!'
Today the two boats were empty and still moored alongside each other close to a bridge just yards from the scene of the incident.
The man's boat has a sign on the door warning passers-by: 'Beware of the dog. Enter at own risk.'
Source: Read Full Article