DOT Reaches New All-Time High as Polkadot Braces for Multiple Project Launches in 2021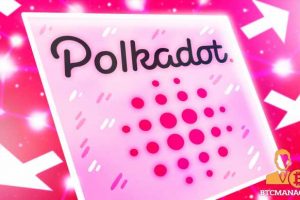 Polkadot has witnessed a massive surge in price by almost +37.9% in the last 24 hours, driving the market cap to $10 billion, bringing it to a new all-time high at $12.74. And for the first time, DOT became the 5th biggest cryptocurrency in market cap.
DOT Price Soars Record-High
Polkadot is viewed as a competitor to Ethereum as it enables smart contracts to work in an ecosystem of more blockchains called parachains. As mentioned, DOT's new record-high allowed it to overtake Litcoin (LTC) as the fifth-ranking cryptocurrency by market cap. According to its website, DOT is one of the notable blockchain projects that give exceptional financial functionality by allowing a standard circle of validators to bind multiple blockchains. 
There could be various significant causes behind DOT's solid price surge. These could be an influential technical overall crypto market drive, the expectation of scalable blockchain systems, the attraction towards DeFi. Remarkably, the surge comes along with recent information indicating multiple developmental projects.
At the time of writing, the DOT price is sitting at $12.45. Polkadot is also progressing speedily, making its place in the top crypto-atmosphere. In August 2020, it was placed in the top ten of all cryptocurrencies with a market capitalization of more than $5 Billion. In the last 30 days, the DOT price has increased by almost +141%.
Polkadot is Eyeing For Multiple Projects in 2021
Polkadot is a comparative novice among blockchain platforms. It was developed by Gavin Wood and Jutta Steiner of Parity Technologies, which previously worked on Ethereum-based projects. However, Polkadot is one of the very few projects whose growth in 2020 has rivaled that of DeFi tokens.
After launching its mainnet in May 2020, Polkadot has drawn progress from projects such as Moonbeam, which operates on scalable smart contracts, as well as digital identity projects like KILT. 
There are several notable projects that Polkadot is planning to work on in 2021. Moonbeam, for one, is a developer-inclined blockchain that gives adaptability to the current Ethereum network. Moreover, the DOT team is also working on Acala and Frontier. Acala is a parachain created to build a cross-chain unrestricted economic base for the Polkadot ecosystem. Frontier, on the other hand, is an Ethereum-Substrate adaptability project intended to create a standardized blockchain network that will be used to develop system blockchains and Polkadot parachains.
Source: Read Full Article