IOTA (MIOTA) Inching Closer to Complete Decentralization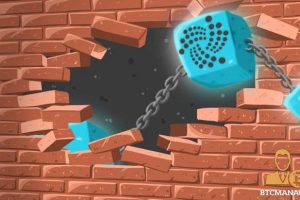 Jakub Cech, the Director of Engineering at the IOTA Foundation, on Jan 14, released the development update detailing progress made in December 2020.
IOTA Smart Contracts and Chrysalis
In their report, the Chrysalis testnet and the pre-alpha version of IOTA smart contracts were made public in December. Hornet has since been running on this testnet as most integrations for Chrysalis phase 2 are now ready.
Chrysalis is the intermittent stage (IOTA 1.5) before Coordicide. The objective of releasing the testnet to the public, the foundation explains, was to test all of the Chrysalis components openly while concurrently adding remaining capabilities and components.
Auditing of Bee Node Software, Stronghold, and Firefly
From next week, users will be able to test the Bee node software on the testnet. The Bee Node software audit is ongoing and will conclude in early February—or after three weeks.
Developers also released version 0.3.5 of Pollen—the first phase designed as the testbed for engineers and developers testing and validating the concepts of IOTA 2.0. The update will be more robust, secure, and reliable, as that was the main goal.
The development team is also working on Stronghold and will release its Beta version in Spring. The primary determinant will be its feature-completeness and robustness.
Meanwhile, most of Firefly's user interface is complete. Its code will also be audited in January.
Leading IoT
IOTA is the leading distributed ledger technology (DLT)-based Internet of Things (IoT) platform whose supporters say will underpin the future of machine and data economy. Unlike the common architectures deployed by existing platforms, IOTA is using a blockless system.
Their design is to inherently lower transaction fees and incrementally scale the base layer depending on the platform's demand. Therefore, diverging from Ethereum or Bitcoin, a sharp increase in load won't clog the network but exponentially increase its throughput.
The network throughput, as adjudged from their setting, is variable, fluctuating depending on user load.
The Coordinator Problem
Despite what IOTA seeks to achieve, the network is presently under the control of the foundation which runs the Coordinator. It is a super-node primarily tasked with protecting the network against third party attacks and confirming Proof-of-Work transactions.
However, their pressing concern is to remove the Coordinator and decentralize the network in a three-stage release strategy starting from Pollen, eventually culminating with Honey.
As BTCManager reported, IOTA will consider a partnership and bridge to Cardano, a peer-reviewed and research-led smart contracting platform.
Source: Read Full Article