GrayScale Buys $370 Million Bitcoin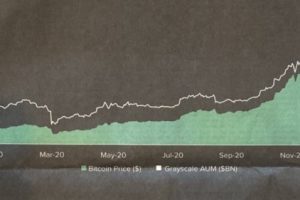 In just three days GrayScale is nearing what in late December it was doing in a week, with almost 10,000 bitcoin bought since Wednesday, worth $370 million.
They bought $80 million within hours of opening up. Then 2,620 bitcoin was added on Thursday, worth about $100 million.
On Friday there was a jump, with GrayScale scooping up 5,130 bitcoin, worth $190 million.
That's almost one Guggenheim a week. Guggenheim Partners of course being the publicly traded rich families investors that announced in December they are to buy $500 million bitcoin.
Whether they have yet is not clear, but demand for bitcoin seems to be accelerating at GrayScale with it starting off at around $100 million a week in November, $500 million weekly in December, and now not far off from $500 million in half a week.
According to their latest report, $5.7 billion was invested in bitcoin through them last year, a huge jump from $608 million in 2019 which itself was a doubling of the $360 million in 2018.
Indicating interest in bitcoin by institutional investors is going parabolic, with only accredited investors able to create bitcoin shares at the net asset value, shares that are then publicly traded on OTC Markets after six months of holding.
To celebrate this success they've taken an ad on the Wall Street Journal (partially pictured) and Financial Times.
"Bringing bitcoin to the masses," said GrayScale's founder Barry Silbert, as the loopholed stock traded bitcoin trust nears $23 billion in bitcoin holdings.
Source: Read Full Article