Phemex's Is Giving Out $120,000 in Prizes for Its Special Christmas Campaign!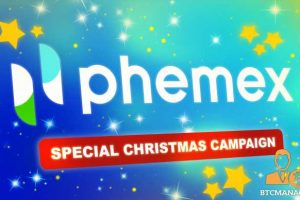 Christmas is knocking at the door, and the aroma of presents, vacations, and good cheer can be found all across the world. The Web3 ecosystem is no exception when it comes to the effects of the widely recognised holiday season. Last December, Bitcoin surpassed all expectations, reaching $24,600 per coin for the first time ever. Given how much the space has grown since then, things may get a touch out of hand this month.
The question of whether Bitcoin will reach a new all-time high this year is still up in the air, but the cryptocurrency sector as a whole has expanded tremendously this year. Its market capitalization is more than four times what it was at this time last year. 
The latest event at Phemex is here to provide some holiday joy to the season. This December, Singapore's fastest digital asset derivatives exchange will be offering a variety of unique presents to celebrate this memorable moment.
Make a checklist and check it twice.
Until December 25th, Phemex will be giving away $120,000 in prizes as part of its Christmas campaign. Additional prizes include an iPhone 13 Pro Max for a few lucky winners. To take part in the event, visitors must go to Phemex and register using their Phemex UID. They are then given a list of activities to perform that includes, for example, keeping up with the exchange's various social media accounts, sharing materials with their followers, and completing KYC procedures on the platform. In the previous year's Christmas campaign, Phemex gave away a Tesla Model 3 to a fortunate winner.
For completing tasks like depositing Bitcoin and Ethereum, reaching a certain contract trading volume, and answering a survey question, more rewards are available. The campaign will run from December 14 to Christmas day. Winners will be announced on January 3 and the reward distribution will take place a few weeks later. 
There are four unique reward pools, so participants have four chances to win. To begin, there will be an airdrop, in which a thousand lucky users will each get a reward from a $20,000 prize pool. Ten lucky winners will each get an iPhone 13 Pro Max from the second prize pool, however, only those who have completed at least 11 of the campaign's activities will get a share of this prize pool. 
All qualified participants will be entered into a random drawing to determine the winners. For participants who execute tasks requiring contract trading volumes, a third pool of $40,000 is put aside, and a final pool of $40,000 is kept aside for those making deposits.
If you want to take advantage of the prize pool before it's gone, you should start depositing and trading as soon as possible. Deposits made before December 25th will only be eligible for awards if they're kept on the exchange throughout the campaign. 
Overnight, you may go all over the world.
After January 3, winners will be contacted through their registered email addresses by [email protected], with prize distribution starting after January 24. Only the primary accounts of users are included in the final tally of participants since multiple accounts are not permitted.
Participation in the contest will be forfeited if it is determined that a player is utilizing numerous accounts to participate. Additionally, users must confirm that their Phemex UID is correct and connected to their Gleam email address in order to earn prizes.
At first, Phemex only supported three contract pairs, but it has now grown to 40 spot pairings and 39 contract pairs for almost two million users. Several aggregators, including CoinMarketCap, rate it as one of the top crypto derivatives trading platforms in the world. 
The exchange holds frequent events to stay in touch with its users. In particular, Phemex has launched this year's Christmas Special campaign as a celebration of the holiday season and the expansion of blockchain technology in 2021.
Related posts:
Source: Read Full Article