Analyst Predicts Bitcoin Price to Reach $48,700 Before Halving; A Historical Pattern?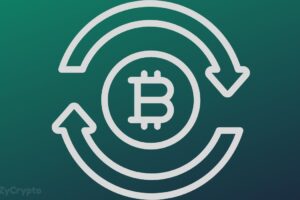 Bitcoin (BTC) has demonstrated remarkable resilience this week, maintaining a firm grip above the $26,000 mark.
This achievement comes despite significant sell-offs in the equity markets and a surging U.S. dollar, which could have spelt doom for the world's largest cryptocurrency. As of Sunday morning, Bitcoin was trading at approximately $26,515, showing a modest 0.2% increase since the week's outset.
Meanwhile, amid this volatile landscape, pundits have been making interesting predictions on Bitcoin's price trajectory.
On Saturday, popular crypto analyst "Titan of Crypto" took to X, confidently asserting that Bitcoin is poised to surge to $48,700 before the halving event. This bold forecast draws its credibility from a well-established historical pattern where Bitcoin has consistently approached the 78.6% Fibonacci retracement level before each halving.
The analyst underscored the significance of the last four halving events, where the price reached this crucial level four months (2013), two months (2016), and twelve months (2020) before each respective event.
With the next halving just seven months away, the pundit noted that "Bitcoin might reach the 78.6% Fibonacci retracement level within this period. And it lies at $48,700."
Elsewhere, renowned cryptocurrency PlanB also reaffirmed his optimistic outlook for Bitcoin. Mid this week, he reiterated his belief that Bitcoin's bottom was at $15,500 in November 2022 and anticipates its upward trajectory leading to the 2024 halving. According to him, the 2024 halving event could push Bitcoin's value beyond $32,000, possibly ranging from $32,000 to $66,000.
Moreover, he envisioned a particularly bullish 2025, suggesting that Bitcoin could reach an astonishing $1 million from its projected $100,000 price point, a forecast that carries weight due to the historical accuracy of his PlanB Stock-to-Flow (S2F) model.
"Rekt Capital," on the other hand, offered a contrasting perspective, albeit suggesting that Bitcoin's current cycle might echo past trends. Drawing parallels with the 2019 cycle, Rekt Capital noted the possibility of a lower high, potentially resulting in a 27% decline, reaching a macro higher low of around $20,300 by mid-February 2024.
He also noted that historical data indicates that Bitcoin has taken 518 to 546 days to peak after each halving event. According to Rekt, this pattern could show a potential peak in either mid-September or mid-October 2025.
Bitcoin halving is a process that occurs approximately every four years, during which the rate at which new Bitcoins are generated as block rewards is cut in half, making it a deflationary asset. Historically, halving events substantially influence Bitcoin's price, with diminished supply typically sparking heightened demand and subsequent price surges. The forthcoming halving is slated for April 2024.
That said, as speculations swirl around the possibility of Bitcoin surging before the halving, speculations are rife about whether this time will be any different.
Source: Read Full Article