This War Had The Most Wounded American Soldiers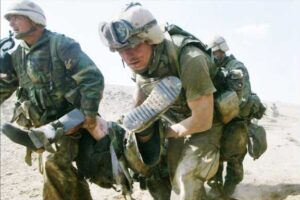 President Abraham Lincoln, in his Gettysburg Address, eloquently described fallen Union soldiers as individuals who had given their "last full measure of devotion." However, it's crucial to remember that casualties in war encompass not only fatalities but also the wounded, and often, the number of serious injuries far exceeds the count of deaths. For numerous veterans, these injuries become enduring companions throughout their lives. Some bear wounds from shrapnel or bullets that continue to impact them indefinitely. Others contend with traumatic brain injuries that carry lasting repercussions, and many grapple with the challenges of limb amputations. (Also read: these are the 15 highest ranking military generals and admirals in American history.)
To find the wars in which the most Americans were wounded, 24/7 Wall St. reviewed data from the Department of Veterans Affairs' fact sheet, America's Wars, and the Department of Defense. The conflicts are ordered by total service members who were non-mortally wounded in each of these major conflicts.
The two most costly wars for the United States were World War II and the Civil War. There were more than 1 million casualties in WWII, more than 670,000 of them wounded. Casualties for Union and Confederate forces combined in the Civil War exceeded 900,000, with about half of them wounded.
The cold, hard calculus of warfare has historically put the ratio of wounded to those killed in combat at around 3:1. However, recent medical advances have improved that proportion, putting the U.S. wounded-to-killed ratio in a range of 10:1 to 17:1. The U.S. has been on the vanguard of improving the fate of its wounded soldiers. 
Harvard Kennedy School's Belfer Center for Science and International Affairs cites four reasons for the change in the ratio: preventive care, battlefield medicine, evacuation practices, and personal protective equipment. (Still, some of the military equipment is considerably older. (Also check out: these are 20 countries with the most military firepower.)
As battlefield survivability increases, governments will have to adjust the costs of war for caring for the rising number of wounded soldiers who survive combat.
Click here to see wars in which the most Americans were wounded.
Sponsored: Find a Qualified Financial Advisor
Finding a qualified financial advisor doesn't have to be hard. SmartAsset's free tool matches you with up to 3 fiduciary financial advisors in your area in 5 minutes. Each advisor has been vetted by SmartAsset and is held to a fiduciary standard to act in your best interests. If you're ready to be matched with local advisors that can help you achieve your financial goals, get started now.
Source: Read Full Article