Bitcoin Miners To Exchange Flow Taps 7-Month High As The Crypto Winter Gets Colder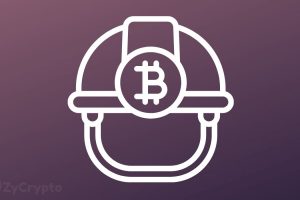 The ongoing crypto winter seems to have caught up with Bitcoin miners as they are now sending a ton of coins to exchanges.
This week, Glassnode's Bitcoin Miners to Exchange Flow chart showed that the outflow of Bitcoin from miner-held wallets into exchange-held wallets reached a seven-month high of 9,476 BTC. 
Historically, a rise in the number of coins being sent to exchanges from miner wallets usually depicts that miners are afraid of losing their hard-earned mining rewards and profits and want to sell. It also usually signals the general market sentiment – In this case, sellers still have a strong grip on the market.
Miner Profitability On The Decline
This development comes in the wake of Bitcoin's mining profitability plummeting by more than 75% from its all-time highs, with revenues dropping while production cost surges.
On Friday, Glassnode shared the "Bitcoin Puel Multiple Chart"- a metric that quantifies the profitability of the market from the miners' perspective. In the stages of a prolonged bear market, the Puell Multiple plunges to the sub-0.5 zone. This metric is currently sitting at 0.39 after entering the capitulation range. 
Subsequently, this is the lowest level since the November 2018 crash and indicates miners are currently earning just 39% of the 1-year average USD income. This means that it is more expensive to mine each coin with USD, denominated reward continued to decline and may signal incoming miner capitulation. 
Realized Losses Tap Fresh Highs
Elsewhere, BTC's increased realized losses continue to drive the market lower with the risk of insolvency by key players gradually unfolding. Last week, Bitcoin investors locked in the largest USD-denominated Realized Loss in history. This week, the BTC spent on-chain realized net losses of over $4.23B, eclipsing all major sell-offs in 2021 and 2020.
Based on onchain data, long-term holders are currently holding the largest amount of unrealized losses. This lot is also spending coins with a higher but barely profitable cost basis compared to short-term holders. In past bear markets, this has signaled the beginning "of the final wash-out phase of all remaining sellers," before the market finds a final bottom based on historical data.
That said, after breaking the norm for the first time in history by going below previous cycles' all-time high, it remains to be seen whether BTC will drop 80-90% from November's peak. As of writing, BTC is trading at $21,397 after a 3% surge in the past 24 hours according to data from CoinGecko.
So far, the coin's value has declined by 71% from its all-time high of $69,044 with any further drop threatening to keep the price trapped inside the 2017 territory for the next 8-24 months according to a recent report by Glassnode.
Source: Read Full Article