Cryptos Rally As China's Factory Rebound Improves Risk Appetite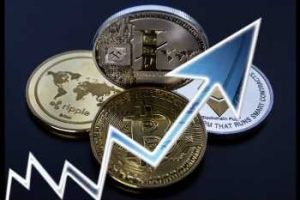 Cryptocurrencies surged close to one percent in the past 24 hours as risk assets rallied following release of data showing a rebound in manufacturing activity in China.
National Bureau of Statistics of China showed a manufacturing PMI reading of 52.6 in February versus previous month's reading of 50.1 and expectations of 50.5. The expansion in factory activity was the fastest pace since April 2012, amidst the recent decision by the Chinese govt to exit the zero-COVID policy.
The Caixin China General Manufacturing PMI reading of 51.6 for February also came in above expectations of 50.2 and previous reading of 49.2.
Stock markets worldwide reflected the risk-on sentiment. The Hang Seng index of the Hong Kong Stock Exchange rallied more than 4 percent in the day's trading. The risk appetite caused the Dollar to slump, dragging the Dollar Index (DXY), a measure of the Dollar's relative strength, to plunge more than half a percent to 104.28.
The rebound in stock markets and the Dollar's retreat that ensued triggered in surge in cryptocurrency markets, lifting the overall crypto market capitalization to $1.08 trillion, from $1.07 trillion a day earlier.
Market leader Bitcoin (BTC) is currently trading at $23,692.27, having gained 1.1 percent in the past 24 hours. Though BTC is trading 1.8 percent lower on a weekly basis, it is holding on to gains of 42 percent on a year-to-date basis.
Ethereum (ETH) also gained 1.1 percent overnight and is currently trading at $1,650.95. Ether is holding on to a quarter percent weekly gain as well as 37 percent year-to-date gain.
Among the top 10 cryptocurrencies, 4th ranked BNB(BNB) and 7th ranked Cardano (ADA) are however trading in mildly negative territory.
77th ranked SingularityNET (AGIX) and 59th ranked Maker (MKR) have both gained more than 16 percent in the past 24 hours. AGIX continues to top year-to-date gains among the top 100 cryptocurrencies with a more than 1100-percent rally.
61st ranked Klaytn (KLAY) shed 5.6 percent overnight and is the biggest laggard among the top 100 cryptocurrencies. 98th ranked ssv.network (SSV) also declined close to 5 percent in the past 24 hours.
The Securities and Exchange Commission has on Tuesday charged Nishad Singh, the former Co-Lead Engineer of FTX Trading Ltd. for his role in defrauding equity investors in FTX. According to the SEC's complaint, Singh created software code that allowed FTX customer funds to be diverted to Alameda Research, a crypto hedge fund owned by Samuel Bankman-Fried and Gary Wang. Moreover, as FTX neared collapse, Singh withdrew approximately $6 million from FTX for personal use and expenditures, including the purchase of a multi-million-dollar house and donations to charitable causes.
In a parallel action, the U.S. Attorney's Office for the Southern District of New York and the Commodity Futures Trading Commission (CFTC) have also announced charges against Singh. Meanwhile, Nishad Singh, has pleaded guilty to six conspiracy charges, including conspiracy to commit wire fraud, conspiracy to commit money laundering and conspiracy to violate federal campaign finances laws.
Crypto markets now look forward to the release of the PMI numbers from the U.S. The manufacturing PMI due later in the day is seen rising to 48, from 47.4 in the previous month. The non-manufacturing PMI due on Friday is seen falling to 54.5, from 55.2 in the previous month. The course of the monetary policy is intricately linked to the strength and resilience of the U.S. economy, warranting close attention to the latest updates from the key sectors of the economy.
For More Cryptocurrency News, visit rttnews.com
Source: Read Full Article