ECB's Lagarde Calls For Bitcoin Regulation At A Global Level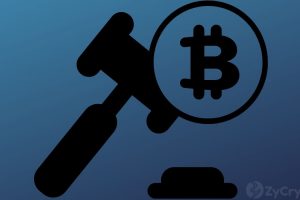 Bitcoin, the topmost cryptocurrency asset by market capitalization had continued to gain attention way before it smashed its all-time high and after. The asset has stirred the emotions of individuals, institutions, and even financial regulators.
While institutional traders and whales commit millions and billions into securing BTC, regulators are 'posing' to have the people's interest at heart, calling for global regulation.
Firstly, the Financial Conduct Authority, the United Kingdom's financial regulator, on January 11, 2021, warned investors that investing in bitcoins and other cryptocurrency assets is risky, and those who engage in it should note that they can lose all their investments. They also emphasized that there was little to no regulation in the crypto space, and investors couldn't access consumer protection institutions like the Financial Ombudsman Service.
A Need For Bitcoin Regulation
In addition to the UK FCA's opinion, the president of the European Central Bank (ECB), Christine Lagarde, while speaking at the Reuters Next Conference on January 13, 2021, emphasized that there's a need for a bitcoin regulation as she considers the asset class "highly speculative."
Lagarde also established that people have used bitcoin to conduct some funny and exciting businesses, while some were "totally reprehensible money laundering" activities. Therefore, she believes there's a need for bitcoin regulation on a global level.
"And there have to be regulations and this has to be applied and agreed upon," on a global scale says Christine Lagarde.
A Digital Euro Still In The Works
Christine Lagarde did not also fail to update the participants on the bank's digital currency still in the works. According to her, the ECB recently concluded a consultation with the general public regarding the digital euro. She also mentioned that the digital euro got the highest level of response.
On that note, the ECB is still on course to release the digital euro. Lagarde, who did not put a specific time to when the digital euro will finally be released to the public, said that the ECB is not in haste to release the proposed currency. However, the bank wants to make sure the system is secure, transactions related to the digital euro are fast, and above all, it meets its users' demands in the region.
Source: Read Full Article