Ex-SEC Chair Joins Chorus Pushing For Spot Bitcoin ETF Approval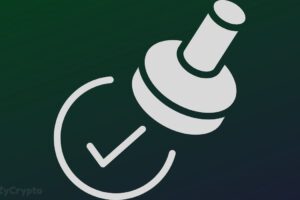 During his latest interview, Jay Clayton voiced his openness to a spot bitcoin exchange-traded fund (ETF). The former Securities and Exchange Commission chairman noted that he was doubtful about trading in the BTC market during his time in office. However, he admitted that the emergence of reputable institutions in the crypto industry is an impressive development not seen before. 
As such, he believes it would be 'hard to resist' okaying a physically-backed bitcoin ETF as long as the requisite regulatory protections are in place, similar to those in the futures market.
Clayton Bullish On Spot Bitcoin ETF Approval
In July 2013, Cameron and Tyler Winklevoss filed paperwork to introduce the first-ever Bitcoin exchange-traded fund (ETF). A decade later, the industry is still waiting for a spot Bitcoin product.
Speaking during a Monday interview with CNBC, the former chair of the SEC, Jay Clayton, pinpointed the noteworthy changes he has witnessed in market sentiment toward crypto since his tenure. "This is an offshore, retail, nothing close to what I would say are the core of our financial markets," Clayton posited of Bitcoin's earlier days.
While Clayton was previously wary of the Bitcoin market due to concerns of wash trading and market manipulation, the former securities regulator recognized the remarkable steps the industry has made, particularly in terms of institutional investment.
Prominent reputable companies are now foraying into Bitcoin, showing increasing confidence in the industry's regulatory safeguards and trading credentials. "The fact that we have these institutions that know markets better than anybody and saying we're going to put our reputation behind it, I find that pretty remarkable," Clayton observed.
Time For Bitcoin ETF Approval
Speaking of spot bitcoin ETFs, Clayton said he thought applicants have a strong chance at approval if they can ascertain that it's a more efficient way for investors to invest in the crypto asset.
"If they're right that the spot market has similar efficacy to the futures market, it would be hard to resist approving a bitcoin ETF."
The former Wall Street regulator is popularly known for launching an unprecedented suit against Ripple and two of its top executives in late 2020 while he was still chair of the SEC. He is also responsible for the rejection of numerous physically backed bitcoin ETFs during his stint as the 32nd chairman of the commission.
As of right now, there's still no spot Bitcoin ETF trading in the United States, but BlackRock's application a couple of weeks ago signalled to the industry that the time may be coming when that changes. In recent weeks, we've seen around half a dozen new filings for a spot bitcoin ETF. Has the market matured enough to support an ETF as Clayton suggests, and can applicants give the SEC adequate guarantees that an ETF would be safe for investors?
While Clayton is bullish on the approval of a spot crypto ETF if certain conditions are met, he did not say when he expects such a long-awaited product to happen in the U.S finally.
Source: Read Full Article