Mystery Solved: Sam Bankman-Fried's Alameda Caused Bitcoin's Flash Crash To $8,200 In 2021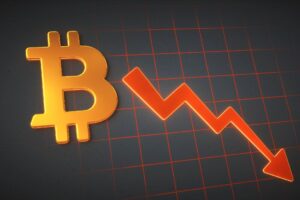 A former employee of Alameda Research has revealed that the now-defunct quantitative trading firm was responsible for a rapid 87% plunge in Bitcoin prices in 2021. The incident occurred on October 21, when the world's biggest and oldest cryptocurrency sunk to as low as $8,200 on Binance.US for no apparent reason.
BTC's Crash On Binance.US In 2021 Explained
An ex-Alameda employee has shed light on what really caused Bitcoin's unprecedented flash crash in 2021.
According to former Alameda Research engineer Aditya Baradwajan, a trader at the firm accidentally entered a Bitcoin sell order on Alameda's manual trading system with the decimal point off by a few spaces, selling a block of BTC for pennies on the dollar at the time.
The result of this blunder was immediate. The Bitcoin price nosedived 87% on Binance.US in a flash on Oct. 21, 2021. The cryptocurrency dipped from $65,000 highs to $8,200 per coin in the span of minutes on the platform, while other BTC markets functioned normally.
At the time, the crypto exchange attributed the price flash crash to a "bug" in the trading algorithm of an institutional client in an effort to cover Alameda's mistake.
The sudden price action notably sent shockwaves across the crypto market as investors scrambled to figure out what was really happening. The Bitcoin price, however, quickly recovered as arbitrageurs capitalized on the mispricing. But Alameda suffered "tens of millions" in losses from the bad trade.
"But because it had been an honest mistake, there wasn't much to do except to implement additional sanity checks for manual trades. And that's what we did," Baradwaj continued.
SBF, who co-founded Alameda Research and its sister firm FTX, is readying for his first criminal trial scheduled to start on October 3. His second trial is expected to begin in March next year. The disgraced crypto tycoon has pleaded not guilty to all charges brought against him.
Source: Read Full Article