Nigel Green Sold Half of his Bitcoin Holding When Price Reached $24k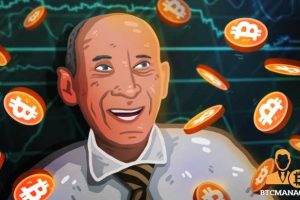 Nigel Green, the CEO of deVere Group, sold half of his Bitcoin holdings over Christmas as "it should now be treated as any other investment – sell high and re-purchase in the dips," as per a recent blog post.
"I Believe in Bitcoin"
At the time of his liquidation, the Bitcoin price had just crossed $20k, printing a new high above $24k, according to trackers. However, for avoidance of doubt, Nigel said his decision wasn't due to his lack of belief in the cryptocurrency.
Instead, he explains, it was more about taking profits.
Nigel notes that loose a monetary policy necessitated by governments' need to prop economies forces investors to Bitcoin, a tool that has emerged as an alternative to gold as a hedge against inflation.
Additionally, the entry of Wall Street megaliths and global payment companies is valuable for crypto and will boost consumer interest:
"With some of the world's biggest institutions – amongst them, multinational payment companies and Wall Street giants – piling into cryptocurrencies and bringing their vast expertise and capital with them. This, naturally, boosts consumer interest. Also, as governments continue to support economies and hike spending due to the coronavirus crisis, investors will increasingly look to Bitcoin as a hedge against the legitimate inflation concern."
Bitcoin Price Trajectory is Undeniably Upwards
In late October, PayPal officially announced their entry into cryptocurrency, saying it would support several cryptocurrencies, including Bitcoin.
The BTC price rallied on this news, forming a basis for the eventual breakout above $20k. Since then, the BTC/USD pair has soared above several sell walls, reaching $34.7k on Jan 3.
According to trackers, prices have since recoiled, falling from all-time highs to around $31k.
With the current contraction, it could provide another opportunity for Nigel to load up more BTC for cheap since "Bitcoin's longer-term price trajectory is undeniably upwards."
As per deVere Group's latest survey, 75 percent of high net-worth investors will be fully invested in cryptocurrencies before the end of 2022. Coupled with the coin's intrinsic properties and institutional entry, the BTC/USD price could rise in the long term.
According to a BTCManager report, Greenpro Capital—a public company, plans to raise $100 million and invest in Bitcoin. 
Source: Read Full Article