PayPal May Earn $2 Billion in Revenue from Bitcoin Alone By 2023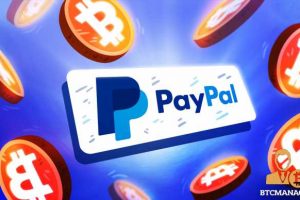 Dan Dolev, an analyst with Mizuho, predicts PayPal to earn $2 billion in revenue by 2023 from Bitcoin alone, MarketWatch reported on Jan 15.
Support for Cryptocurrencies is a Boost
In late October, PayPal–a US-based payment processing company–announced their support for cryptocurrencies. They first allowed clients in the United States to trade and hold several cryptocurrencies, including Bitcoin Ethereum.
Their decision, which analysts said was strategic, comes after months of speculation that the platform was at an advanced stage of integrating support for select cryptocurrencies.
With their announcement, supported coins posted remarkable gains. Most notably, since October, the BTC price has more than tripled, racing to around $42k, according to trackers.
Bitcoin and Crypto Services to Boost Revenue
Now, considering the potential and institutional interest, PayPal acting as a conduit for their over 300 million clients would be the much-needed tailwinds.
Already, year-to-date, the PayPal market valuation has more than doubled as its stock price rose 111 percent.
Based on crypto holders' account activity and comparatively high account balances–as observed in the last few months, PayPal could receive a significant boost in revenue if the analyst's forecast is true.
The PayPal stock may rise to $350 within three years from spot rates in his projection, adding $60 from his early projection of $290.
PayPal Could generate $600 Million in Revenue from Crypto in 2021
Another analyst, Lisa Ellis of MoffettNathanson LLC, also says that the PayPal support of Bitcoin would help in diversification and is strategic for the payment processing firm.
In her assessment, their support of crypto services would potentially help the firm generate between $300 million and $600 million by the close of 2021.
In a note to clients, she says:
"Over the long-term, we believe PayPal's cryptocurrency initiatives have significant strategic value, helping PayPal diversify the PayPal and Venmo apps into "destination apps" for a broad range of financial services, and positioning PayPal to help shape the long-term role of cryptocurrencies (and government-backed digital currencies) in the consumer payment system."
A survey in early December 2020, as BTCManager reported, revealed that PayPal users were gearing up to use Bitcoin as a funding source for online shopping.
Source: Read Full Article