Seasoned Price Action Trader Says Bitcoin Price Headed For $12,000 – $5,000 Crash Floor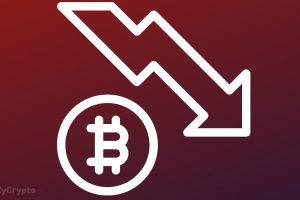 Seasoned price action trader Justin Bennett sharing his Bitcoin chart, revealed that Bitcoin had formed a descending triangle chart pattern, noting that the price target is $5,000.
"Since late May, BTC has formed a descending triangle.
The objective of this pattern is $5k. Yes, that.
This is probably a worst-case scenario for Bitcoin, and $12k comes before this. But don't rule it out," said Bennett.
It bears mentioning that it is the second time in recent months that Bennett has predicted that Bitcoin will plummet below $10k. Notably, on July 12th, in a YouTube video, Bennett asserted that Bitcoin is steering to $8,500. According to the market analyst, traders should exercise caution in the crypto markets as he believes the current bear market differs from any we have ever seen. Bennett says it is the first time the Bitcoin market has faced such macroeconomic conditions.
Notably, Bitcoin remains under enormous selling pressure. On-chain analytics platform, Santiment reported that over 1.69 million BTC (approximately $33.5 billion) was moved to exchanges from September 7th to September 13th alone. According to the on-chain analytics firm, it is the highest since October 2021, less than a month before several crypto assets, including Bitcoin, created new all-time highs.
Bitcoin and, indeed, the entire crypto and equity markets have had a challenging year. Most leading crypto assets are over 70% lower than peaks formed in November. The lacklustre price movement has been attributed to the worsening macroeconomic conditions as inflation remains at record levels globally following excessive money printing during the pandemic.
The latest inflation data from the US shows that inflation rose by 8.3% year-on-year in August, 20 basis points higher than economists projected. Consequently, economists expect a 100 basis point rate hike from the Fed this week.
Unless there is a narrative change, the continued selling pressure combined with persistent rate hikes may push the price of the leading asset lower. Bitcoin is trading at the $18,820 price point, 15.89% lower than it was seven days before.
Source: Read Full Article