Adult Blockchain App Secures $35M Investment To Accelerate Growth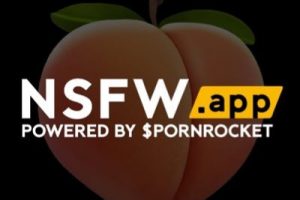 Blockchain asset manager Alphabit has confirmed the first phase of up to $35M investment in NSFW.App, an adult blockchain application.
The NSFW.app proposition is to provide a free to use distribution platform for content producers to upload content and monetize it based on a value they set. Copyright is protected and owned by the producer. Unlike other streaming services, NSFW.app does not seek to control the income content providers can earn, rather the business model is on building a marketplace where subscribers have unrivalled choice and access to view with charges varying by content type, popularity or exclusivity depending on the producer's outlook.
The investment will help to accelerate the growth of NSFW.app. The beta version of the application is currently being rolled out to over 100 users, and is set to be rolled out globally to a mass audience by the end of 2021.
The decision to invest follows the appointment of Reuben Coppa to lead the organization in June 2021 and the process of restructuring he has undertaken to position NSFW.App as the broadcast platform of choice for independent content producers.
Coppa, the founder of Intimate.io and a relative veteran of the blockchain development scene has embarked on a whirlwind program of activity since his arrival and in 60 days has acted to focus the proposition, engage with content creators and build out a team of experienced legal, financial and marketing experts to ensure the operating framework safeguard stakeholders interests and conforms with the body of legislation regulators have brought to bear on the sector.
"This was a very simple decision for us. Vice tech is an incredible use case for crypto, and is going to power mainstream adoption," said Liam Robertson, CEO of Alphabit. ​​​​​​​"Given Reuben's knowledge of blockchain technology and industry know-how, his arrival at NSFW.app immediately registered, and we are pleased to be able to secure an investment in what we believe will be the defining player in this multi billion dollar sector and likely unicorn of the entertainment industry. We particularly see the massive potential of this project to utilize additional blockchain networks and are committing funds to accelerate this development"
Coppa stated that their vision is to create a marketplace that brings together all content generators, whatever the genre and give them the opportunity to charge what they see as fit and fair.
"The support of blue-chip funds such as Alphabit helps drive this vision and pays tribute to the team's commitment to create a transparent eco-system," said Coppa.
Source: Read Full Article