CoinZoom Aiming to Be a One-stop Shop for Crypto Payments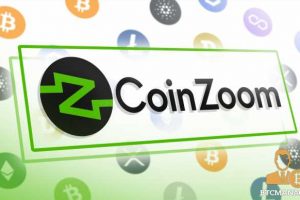 United States-based cryptocurrency payments app, CoinZoom is aiming to be the go-to platform for both crypto trading professionals and newbies alike. With CoinZoom, users can earn interest on their digital asset holdings, spend their coins with the CoinZoom Visa debit card at over 53 million merchants worldwide and also send and receive cross-border payments without stress.
CoinZoom Fostering Global Crypto Adoption
While bitcoin (BTC) and other cryptocurrencies are yet to completely go mainstream, the popularity of these innovative digital currencies have surged significantly since 2020 and there are now more than 300 million cryptocurrency users globally.
At the time of writing there are more than 68 million blockchain wallet users globally and various crypto payment service providers have gone live in recent years. Despite this, there are still numerous challenges limiting the use of cryptoassets for day-to-day payments, including high transaction costs, amongst others.
However, CoinZoom, a United States-based company that claims to be bridging the gap between legacy FX, futures, stocks, and banking to make crypto available to the masses, is now making it possible for people to spend their crypto with ease across 192 million countries.
CoinZoom Simplifying Crypto Payments
According to CoinZoom co-founder Ben Crosland, while the first iteration of the app, known as CoinZoom Pro, was designed to cater to the needs of experienced crypto traders, the latest version, which will be available for downloads by the end of 2021, can be used by anyone.
"By the end of the year, your grandma can download the CoinZoom app and send you crypto," he says, adding "without CoinZoom, I could send money from my Ethereum wallet to yours on the blockchain right now. The problem is, it'll take forever."
However, with CoinZoom, users can instantly send crypto or whatever currency across borders, in a lightning fast manner without worrying about exorbitant gas or transaction fees.
"That's how people want to use apps like this," he continues. "When you open Venmo or Cash App, it's probably because you're paying for your half of a pizza or requesting money from a friend for a movie you went to together. It's casual , it's easy, and you do it often. Now you can do the same with your cryptocurrencies."
CoinZoom, Inc. is a United States Registered Money Services Business with FinCen in all the 50 states of the country. The company has decades of experience in building financial technology solutions and it has now brought that expertise to crypto.
With the CoinZoom Visa Card, crypto holders can quickly convert their crypto to fiat and spend it at more than 53 million retailers across the globe. For those who prefer to hodl their coins, the CoinZoom Earn features offer up to 7.50 percent APY on their crypto holdings.
Related posts:
Source: Read Full Article