KuCoin Launches KCC Mainnet to Improve Overall Community Experience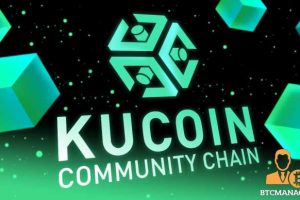 Major cryptocurrency exchange KuCoin launched the KuCoin Community Chain (KCC) mainnet, with the goal of providing the community with a more efficient and cost-effective experience. 
KuCoin Unveils Community Mainnet
KuCoin announced the official launch of the KCC mainnet on Wednesday (June 16, 2021). According to the announcement, the mainnet was created by fans of KCC and KCS. 
The cryptocurrency exchange, as a member of the KCC community and an angel investor, will offer financial and technical support towards the early development of the mainnet. Meanwhile, KCC is both ERC20 and Ethereum compatible, which makes bridging easier and cheaper. This also means that decentralized application (dApp) development is easier since it's similar to smart contract logic. 
The introduction of decentralized finance (DeFi) and non-fungible tokens (NFT) to the cryptocurrency space has put a strain on the current public chain technology, which struggles to support high-level and large-scale applications. Consequently, transactions are slow, performance is low, and the high cost of unlicensed chain adoption has hindered more mainstream applications of blockchain technology for different use cases. 
However, the mainnet uses the Proof of Staked Authority (PoSA) consensus mechanism, which makes transactions faster, thereby boosting the performance and processing power of the public chain. Also, KCC uses KuCoin's native token, KCS, for lower gas fees. High gas fees have been an issue on the Ethereum network, causing developers to seek alternative chains.
Commenting on the latest development was KuCoin Global CEO, Johnny Lyu, who said:
"We believe that blockchain technology will accelerate the flow of value around the globe. We take it as our mission and will make great efforts to achieve it for the future. KCC also represents a key step towards decentralization beyond the integration of open-source blockchain communities. We welcome the community members and enthusiasts of the blockchain world to hold hands and promote the development of KCC and blockchain technology."
The launching of the KCC mainnet is another major development for KuCoin. As previously reported by BTCManager back in April, the cryptocurrency exchange launched its incubator and research arm called KuCoin Labs. Back in January, KuCoin also introduced a Trading Bot Feature guaranteed to generate a steady passive income for its users. In April, KuCoin was reportedly among the three exchanges eying a move to India.
Related posts:
Source: Read Full Article