Analysis: Celebrate Bruins' improbable run to the men's Final Four now, because 'Zags will crush them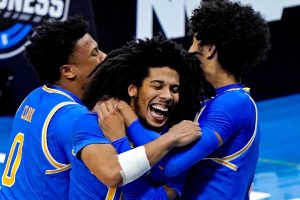 Congratulations to UCLA!
The Bruins punched a ticket to the Final Four with a 51-49 win against Michigan assisted by the Wolverines' offensive swoon in the game's final three minutes.
UCLA has returned to the brightest stage in men's college basketball in coach Mick Cronin's second season, allowing Cronin to answer the critics, doubters and naysayers who questioned the hiring of a coach who had failed to get out of the first weekend of the men's NCAA Tournament in his previous seven appearances.
In fact, getting to the Final Four is such an incredible feat that anything achieved from this point forward is gravy, especially given the Bruins' lack of preseason hype — not to mention their status as one of the teams in this year's First Four.
Despite owning the most national championships of any team in college basketball, the Bruins are a success story worthy of being celebrated and commended for the next three days.
Of course, Gonzaga is going to beat UCLA like a drum.
PARTY TIME: UCLA fans celebrate men's Final Four berth in streets near campus
OPINION: This men's Final Four makes perfect sense, even in a bizarre season
MORE: Winners, losers from men's Elite Eight games Tuesday

Source: Read Full Article