Business star Bonnie to expand her tasty cooking ranges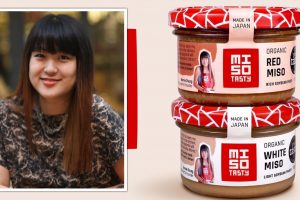 Miso Tasty's Bonnie Chung appears on Sunday Brunch
We use your sign-up to provide content in ways you've consented to and to improve our understanding of you. This may include adverts from us and 3rd parties based on our understanding. You can unsubscribe at any time. More info
With its range of soups, noodle kits, marinades and best-selling vegan paste now favourites among chefs and foodies, Chung's Miso Tasty is forecasting £4 million turnover in 2024 and has more in store as it plans new products and an investment raise this year. Employing 15 and based in Mission Kitchen, a social food enterprise hub in south London, the fermented soybean pastes are made in Japan before being shipped to the UK and product creation.
The whole project is a labour of love for co-founder and managing director Chung, an emblem of what women business owners can achieve, who first had the idea over a decade ago and launched in 2014.
"Miso is a fantastic flavour enhancer that many have not thought of before for foods such as mashed potato or aubergines and even Bloody Mary cocktails," she explains.
"I saw the opening as a cook who could only find poor quality miso in the UK," she explains.
"Miso wasn't well known here then and development has been very challenging. We did 65 manufacturing trials before finding the right factory to deliver the authenticity needed.
"Our recipe is unique and deciding on being a strictly specialist, niche brand that communicates just one thing was a risky step.
"But it's proved the right one as being ahead of the trend we were able to own the space and capitalise on the growing popularity of Japanese food here through restaurants and healthier plant-based diets.
"With the backing of supportive and creative retailers, chefs like Jamie Oliver and the public's appetite for cooking shows, we've been able to show how our ingredients broaden perceptions and can be used in less intimidating, more adventurous ways."
The company works with several UK producers creating its ranges that include two flavour profiles. A milder white miso paste which has a higher proportion of rice is good with cheese and sweeter dishes, while its counterpart, a darker, tangy red compliments spicier, onion based recipes.
Customers are now worldwide with exports making up 33 per cent of the Tasty's trade and Chung has a 50 per cent target within the next couple of years.
Along with new stocks and sauces products in 2023, she will also be unveiling Tofu Tasty, a new high protein product. "The pieces are a bit like pasta, sold in a bag and hydrate when added to dishes like a stir fry," she explains.
As a woman business owner working in the food retail sector Chung never encountered gender-based closed doors. "But it was different when pitching for funding," she observes. "Men, I noticed,' seemed much more strident and tended to overvalue their businesses.
"My view remains that it is important always to be credible, not to over-promise and demonstrate sustainability."
After £1.5 million investment so far from the company's directors, crowdfunding and angels, Chung is aiming for a further growth raise this year in the shape of a £250,000 collaboration perhaps with a partner offering overseas distribution expertise.
Other partnerships with a vegan cheesemaker or sauce producer – think miso mayonnaise – would also be of interest
Customers are primarily retail and include Selfridges, Sainbury's, and Waitrose.
"We are lucky to have some brilliant clients and Waitrose in particular we have a close relationship with. We work closely with their innovation team and lead their Japanese food offering," says Chung.
"Waitrose are incredibly fair and supportive to small suppliers like ours and give us great opportunities for brand exposure. They are also willing to take risks and try new ideas, and not afraid to be the first to push a new ingredient, knowing that serious foodies would love to discover it. We love to always be ahead of the curve in trends for Asian food and Waitrose are not afraid to support that."
Miso Tasty's next targets are catering and food service such as hotels as Chung reinvents miso as an everyday staple for the store cupboard with new packaging formats such as plastic-free bags.
Costs have gone up 20 per cent recently, but Miso Tasty did not give in to the huge paperwork challenges posed by Brexit. "It involved months of work, our paste is from Japan and proving we were a UK product and sorting our organic accreditation again was really difficult," says Chung, "but we stuck with it and are now working with German chain Rewe."
And for those foodies who want to go more off grid with miso, perhaps in banana bread or a pasta dish, she advises: "Avoid too much, just add a spoon and see."
Source: Read Full Article