Cities With the Worst Traffic in the Country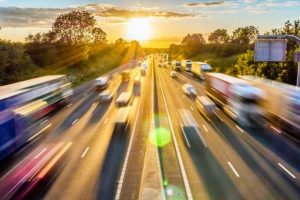 With pandemic-era restrictions largely lifted, traffic congestion is getting worse in much of the United States. As Americans return to the office, roads that were once virtually deserted are now filled with rush hour traffic. 
Traffic delays are expensive, costing American drivers an estimated $100 billion annually in wasted fuel and lost time, according to Texas A&M University. Each year, in cities across the United States, the typical commuter spends hours sitting in traffic – and in some cities, the problem is far worse than in others. (Here is a look at the most fuel efficient SUVs on the market.)
Using traffic data for 292 U.S. cities from INRIX, a traffic data and analytics company, 24/7 Wall St. identified the American cities with the worst traffic. Cities are ranked by the average number of hours the typical commuter lost to traffic in 2022. In the case of a tie, the city with the longer average commute time ranks lower. In the 32 cities on this list, the average commuter lost 30 hours or to traffic in 2022.
California is home to five cities on this list, more than any other state, followed by Texas, with four of the cities with the worst traffic. In every city on this list, traffic delays increased by anywhere from 11% to 155% from 2021 to 2022.   
Most of the cities on this list are densely-populated places where tens of thousands – if not hundreds of thousands – of people either drive or catch a ride to work. This list includes eight of the 10 largest U.S. cities by population – including New York, Los Angeles, Chicago, and Houston. 
Notably, several cities on this list, like New York, San Francisco, and Washington, D.C., have reliable subway systems that most commuters use every day. Even though public transportation offsets roadway congestion, commuters who drive in these places still spent an average of more than 80 hours stuck in traffic in 2022. (Here is a look at the most congested cities in the world.)
Click here to see the U.S. cities with the worst traffic.
Click here to read our detailed methodology.
Sponsored: Tips for Investing
A financial advisor can help you understand the advantages and disadvantages of investment properties. Finding a qualified financial advisor doesn't have to be hard. SmartAsset's free tool matches you with up to three financial advisors who serve your area, and you can interview your advisor matches at no cost to decide which one is right for you. If you're ready to find an advisor who can help you achieve your financial goals, get started now.
Investing in real estate can diversify your portfolio. But expanding your horizons may add additional costs. If you're an investor looking to minimize expenses, consider checking out online brokerages. They often offer low investment fees, helping you maximize your profit.
Source: Read Full Article