Did Netflix Break Amazon?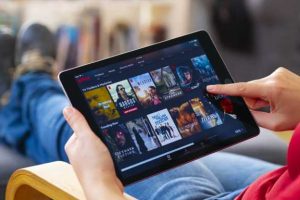 Netflix did not just beat expectations for the number of subscribers it added in the fourth quarter. It crushed them. The company had forecast it would add 4.5 million. The number turned out to be 7.7 million. That put paid membership worldwide at 231 million. By most measures, that is the highest paid subscriber level of any streaming service worldwide. The increase came at the expense of other companies. Amazon is at the top of that list. Its total subscriber count is estimated to be 200 million.
One statistic about the streaming business is not good for most streaming companies. The average American has 3.4 services and pays an average of $8.53 monthly. Only two services have massive libraries of movies and TV shows. These are Amazon and Netflix. (Click here for the 25 best original Netflix movies.)
Why are Amazon and Netflix at the head of the industry? One is that they were early into an industry about a decade old. They got footholds before Disney+, Apple TV+ and several smaller competitors hit the market. Netflix pioneered the market in 2007. Amazon Prime launched around the same time, but it did not have a legacy DVD mail to feed its new business.
Amazon Prime Video had the huge advantage of being bundled with Amazon's Prime service. It is free, in most senses of the word. Prime members get free shipping, special shopping deals, music and cloud storage. Video is simply another benefit.
Get Our Free Investment Newsletter
Amazon and Netflix can afford to produce new shows, movies and series with their own money. They spend more than most traditional studios do. While this is a differentiator, since both produce big hits, the library size is critical to subscribers. Many of the videos in these libraries are drawn from other media companies.
ALSO READ: Biggest Movies People Can't Wait to See in 2023

Netflix grew at the expense of another service, or perhaps several. It is unlikely these were the smaller vertical programming ones with limited libraries. This leaves Amazon as its only real competitor. And there is little reason for people to subscribe to both.
Sponsored: Find a Qualified Financial Advisor
Finding a qualified financial advisor doesn't have to be hard. SmartAsset's free tool matches you with up to 3 fiduciary financial advisors in your area in 5 minutes. Each advisor has been vetted by SmartAsset and is held to a fiduciary standard to act in your best interests. If you're ready to be matched with local advisors that can help you achieve your financial goals, get started now.
Source: Read Full Article