Disney's Former CEO Exits With $24 Million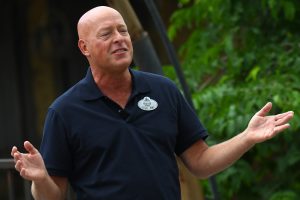 Former Walt Disney Co. (NYSE: DIS) CEO Bob Chapek was rewarded significantly for his humiliating exit. According to the Disney proxy, he made $24,183,003 as he was pushed out the door. While there is a strong argument that he should have kept his job, Disney's board showed, via the payment, that it believed he was the right leader at one point, not long ago. Former CEO Bob Iger replaced Chapek. (See how Disney was involved in one of the biggest scandals of 2022.)
Chapek was discarded on November 20 last year. Over the previous few months, the board lost confidence for several reasons. The final straw seems to have been the money Disney lost in its streaming operation. In the most recent quarter, that loss reached almost $1.5 billion as Disney worked to build subscribers for Disney+, Hulu and ESPN+ streaming brands. Ironically, the streaming strategy was Iger's. Although Disney built a paid subscriber base of over 200 million people across the brands, Iger priced Disney+ too low. It may have gotten customers, but it locked in losses that only price increases could remediate.
Disney has started to raise the price of Disney+. The price of an ad-free version of the service jumped from $7.99 to $10.99. Chapek could have made the decision earlier. However, he knew it would increase churn, which means people would cancel and need to be replaced. The cancellation rate might be high enough for the total number of subscribers to decline.
Get Our Free Investment Newsletter
Ironically, a shrinking subscriber base would have cost Chapek his job as much as the $1.5 billion loss did. Disney's reputation on Wall Street was based largely on the phenomenal increase in numbers as rival Netflix stumbled.
Was $24 million enough of a severance payment? If Chapek were not fired, he would have made more over the next few years, but that does not matter. It was $24 million, and he had no say in the matter.
Sponsored: Find a Qualified Financial Advisor
Finding a qualified financial advisor doesn't have to be hard. SmartAsset's free tool matches you with up to 3 fiduciary financial advisors in your area in 5 minutes. Each advisor has been vetted by SmartAsset and is held to a fiduciary standard to act in your best interests. If you're ready to be matched with local advisors that can help you achieve your financial goals, get started now.
Source: Read Full Article