Dispatches From The Picket Lines, Day 71: Speakers Tout Abortion Rights As WGA Picketers Hit Amazon's New York HQ On "Prime Day"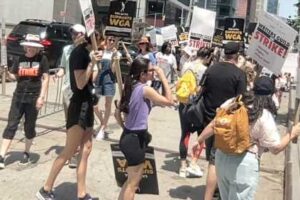 Abortion rights took center stage at a rally Tuesday for striking film and television writers, who gathered with their supporters outside the New York City headquarters of Amazon on the first day of the retail and streaming giant's "Prime Day" summer sale.
Linking abortion rights to labor rights, speakers said that film and TV workers in anti-abortion states are less protected today from pregnancy-related health emergencies than they were before the U.S. Supreme Court struck down Roe v Wade last summer. That ruling turned abortion rights and restrictions into a state-by-state patchwork after the high court's ruling in Dobbs v. Jackson Women's Health Organization.
Related Stories
Ari Emanuel & Bryan Lourd Offer To Step In To Prevent Actors Strike As Studio CEOs Agree To Bring In Federal Mediators
SAG-AFTRA Strike Could Hinge On AI; Deep Divisions Remain Between Actors & Studios In Final Hours Of Talks
They also said production companies such as Amazon — which reimburses employee travel expenses for medical procedures including abortions — could be more vocal in their support of women's reproductive freedom and medical care.
One speaker, Maya Rupert of the Center for Reproductive Rights, said that where in the United States a movie or television show is based now determines "what rights people have access to" while on location as cast and crew.
"And no one should have to make a choice between taking a job and having access to the health care that they need," Rupert said.
Another speaker, the actor and writer Zoe Kazan, gave a graphic personal account of two pregnancies she had that "went so wildly wrong that they required emergency medical intervention." One was a miscarriage, and the other was an ectopic pregnancy, she said.
"This is what I think about when I read articles about obstetricians post-Dobbs — docs fleeing states like Idaho where they now fear legal repercussions for doing their jobs," Kazan, a mother of two, told several dozen rally-goers gathered along the curb in Manhattan's busy Hudson Yards business district. "My work as a writer and an actor has relocated me to places like that — states where getting the kind of reproductive health care that twice saved my life would be much, much harder in a post-Dobbs reality.
"And for what it's worth," she added, "both times that I've needed reproductive surgery, I was in the middle of work on a project — I just happened to be in New York with easy access to that care."
Kazan drew applause for pointing out that since August, the Writers Guild of America pays for any member who needs an abortion to travel to a state where the procedure is legally available. "But what happens when you don't have time to travel to such a place, when you need surgery now, not hours from now?" she said. "What happens when you don't need an abortion but you do need reproductive care that has become much, much harder to find?"
RELATED: WGA Health Fund Expands Abortion Services For Eligible Members' Dependent Children
In May 2022, after a draft of the court's forthcoming Dobbs ruling was leaked to the press, Amazon notified its employees that the company would pay up to $4,000 in travel expenses annually for employee medical treatments including abortions.
But one of Tuesday's speakers, Monarch creator Melissa London Hilfers, criticized Amazon for declining to respond to a coalition of showrunners and directors who last year demanded that studios act to help women working in film and television in states where abortion is severely restricted or illegal.
"Last July over 1,400 of us signed a letter to nine major studios — including this one — asking them to put new safety protocols in place for all people working on their productions in abortion-hostile states," Hilfers said. "Last month we published our report card, which I think people are passing around today, that details the response and follow-through on these protections from each studios.
"Some studios make a good start," Hilfers said. "These guys? Didn't even respond."
Demonstrators also heard from Alison Leiby, a writer for The Marvelous Mrs. Maisel and a stand-up comedian who turned her own experience getting an abortion four years ago into an off-Broadway show called Oh God, a Show About Abortion.
"I did not plan to, nor want to be, a parent," Leiby said. "I had a quick and easy abortion and could continue with my life."
Leiby was one of three speakers, including Plan B co-star Kuhoo Verma and Obvious Child writer-director Gillian Robespierre, with film or theatrical projects specifically about abortion.
A speaker from Planned Parenthood urged film and television writers to keep producing those kinds of stories. "This movement needs you and your creative brilliance," said Caren Spruch, Planned Parenthood's liaison to the film and TV industry as the organization's National Director of Arts and Entertainment Engagement. "We need you to tell the stories about the people who are desperate, fearful and confused about whether or not they can receive the care they need — the tens of millions of patients who no longer have access to abortion."
Robespierre said storytelling is powerful but not enough.
"Studios like Amazon have the power, and literally all of the money, to make a meaningful, material difference in the lives of not just their employees but also the millions of people across the country who will need to have abortions in their lifetime," she said.
Robespierre ended with a punchline: "Here's a pitch: The abortion pill could be the next deal on Amazon Prime Day."
Must Read Stories
Fox Unveils Strike-Proof Fall Sked With Reality-Heavy Plan; 'Kitchen Nightmares' & 'Lego Masters' On Move
Jim Caviezel Thriller 'Sound Of Freedom' Knocks 'Insidious: The Red Door' From No. 1 Spot Monday
"My Ancestral Studio Home": Spielberg's Amblin Partners Inks New Multiyear Deal With Universal
Behind The Scenes Of Pubcaster's Messy, Murky Crisis Over Presenter Sex Pics Allegations: A Timeline
Writers Guild Strike
'Barbie's Greta Gerwig Gives Shoutout To Writers As Co-Writer Noah Baumbach Skips Premiere Amid WGA Strike
WGA To Picket Amazon's "Prime Day", Recasting It As "Crime Day"
Read More About:
Source: Read Full Article