Ethereum's Consistent Price Upswing Fueled By Increase In DEX Transaction Volume — Crucial Stage Lies Ahead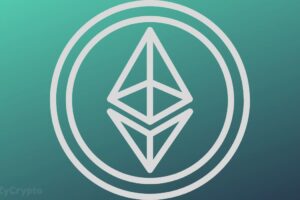 A handful of factors primarily determine the price movement of any cryptocurrency asset. This squally ranges from a fundamental level to a technical level. For a leading asset like Ethereum, fundamental and technical developments have repeatedly swayed market sentiments.
With Ethereum (ETH) preparing to enter the third quarter of 2023, market players are curious to gain insight into the factors stimulating the asset's continuous price growth. According to recent data from CryptoQuant, the upsurge in Ether's price value can be traced back to DEXs. 
Decentralized exchanges, also known as DEXs, are peer-to-peer marketplaces allowing users to carry out transactions with other crypto traders without needing a third party.
The on-chain metrics platform CryptoQuant asserted that a significant portion of Ether's bullish price performance could be tied to the rise in the number of DEX transactions carried out this year.
"Starting from 2023, when observing the volume of ETH traded on DEX, particularly the volume of transactions where ETH is swapped, we can see that it tends to move in a similar direction to the price of ETH." CryptoQuant asserted. 
The pattern was first spotted in January 2023, CryptoQuant noted. Since then, the volume of trades involving ETH on decentralized exchanges has consistently risen. Later in March, the network recorded an enormous volume of trades after the U.S. Securities and Exchange Commission cracked down on many centralized exchanges.
Although this might have been another factor that boosted the price of ETH, the volume of ETH being swapped on decentralized exchanges has been decreasing consistently since March.
It's still unknown where the market is. It is still unclear whether or not Ether has peaked. As CryptoQuant asserts, "We now need to determine whether the current price of ETH will continue to adjust upwards or if the current stage signifies a bottom signal, indicating a good buying opportunity."
At the time of this report, most altcoins on the market are trading in the red zone. Ether trades for $1,875 after dropping by 4.30% over the last week. Bitcoin has also not been spared by the mild downswing, as it has lost 0.45% in the last hour and more than 2% of its gains within the last 7 days. Bitcoin now trades at a press time price of $30,610.
Source: Read Full Article