DK Metcalf is running the 100-meter dash – and U.S. track athletes are licking their chops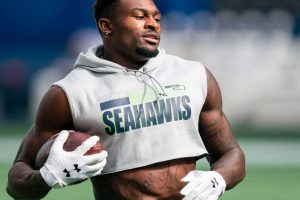 Mike Rodgers has been waiting for this moment.
For years, the 36-year-old sprinter has heard television pundits describe the speed of some NFL players as "world class," or gawk at 40-yard dash times during the league's scouting combine. He's watched as NFL players have decided to "talk all this trash on Twitter" about having the speed of a professional sprinter.
"Football players don't have any clue," Rodgers said in a news conference Thursday.
That's why he – and many others in the track and field community – are so excited for the USA Track and Field Golden Games on Sunday, when Seattle Seahawks wide receiver DK Metcalf will compete against seasoned pros in the 100-meter dash.
They view it as a chance to show the NFL what real world-class speed looks like.
"I mean, by no means am I discounting DK," said Rai Benjamin, a 400-meter hurdler who will be among the favorites to medal at this summer's Tokyo Olympics. "I think he's a phenomenal athlete and it takes a lot of guts and heart to actually come out and line up against the guys that are in the field.
"(But) I think it's going to be a really telling spectacle this weekend, as to what it's really like to compare track speed to the NFL."

Source: Read Full Article