Hyundai Batters Ford EV Sales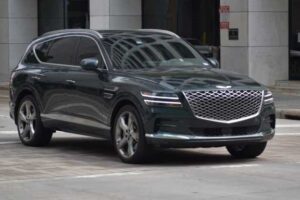 Ford management should be disappointed by a new analysis from CNBC. It shows that, in the U.S., Hyundai-Kia EV sales trailed only Tesla's in the year's first half. Ford fell well behind. So did GM, but by less of a margin.
Tesla's first-half sales were 336,892. Hyundai-Kia's were 38,457, up 11% from a year ago. Ford's were 25,709, up 12%. While GM was behind Hyundai-Kia in unit sales, its growth rate was impressive, up 365% to 36,322.
Ford explained the poor performance by "retooling" of manufacturing facilities that make the Mustang Mach-E. However, and more to the point, Ford does not have another EV that could make up for the deficit. The F-150 Lighting, Ford's EV flagship, had sales of only 8,757 in the first half. It shows that Ford's EV lineup remains very thin. (These are 13 biggest electric vehicles business failures in American history.)
The data further show Ford's real challenge, which is not Tesla. Every major car maker is racing to get share in the U.S. market, the second largest globally, after China. VW sold 26,538 EVs in the US during the first half.
Get Our Free Investment Newsletter
Nissan is among the best examples of early EV success. The Nissan Leaf has been its only real EV product. However, the new Ariya has sold well recently and will likely be the Japanese company's most successful EV for the balance of the year. It is rare that Nissan's plans, over a long period, will differ substantially from Honda's and Toyota's, which means these two will have large EV fleets. (Toyota has been criticized for the slow development of its EV strategy).
The luxury segment is the other part of the EV market in which large car companies have had success. BMW, Porsche, and Cadillac have recently aggressively marketed new EV vehicles.
Legacy car companies are a challenge to Ford for another reason. They have huge dealership and service networks, a potential edge over Tesla. Ford also has a network, but it is not a competitive advantage in an industry where dealer networks are part of almost every car company's strategy. (These are the car brands with the best and worst dealership experiences.)
Sponsored: Find a Qualified Financial Advisor
Finding a qualified financial advisor doesn't have to be hard. SmartAsset's free tool matches you with up to 3 fiduciary financial advisors in your area in 5 minutes. Each advisor has been vetted by SmartAsset and is held to a fiduciary standard to act in your best interests. If you're ready to be matched with local advisors that can help you achieve your financial goals, get started now.
Source: Read Full Article