Pedophile confessing to JonBenét Ramsey's murder was '13 houses away from her home' & made chilling appearance at vigil | The Sun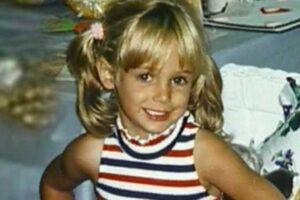 A SUSPECT in the unsolved killing of JonBenét Ramsey had ties to a property just 13 houses away from her family home at the time of her murder and was spotted at a candlelight vigil for the girl carrying a sealed envelope.
Gary Oliva, a convicted pedophile who is currently in prison, was for years considered a suspect in the murder of six-year-old JonBenét, who was found bound, beaten, and strangled to death in the basement of her family's Boulder, Colorado home on Dec. 26, 1996.
The 59-year-old has previously admitted to having an "obsession" with the slain child beauty pageant queen and has authored a series of confession letters from prison, claiming to have killed JonBenét by accident.
Oliva has never been charged in the case. His DNA was tested in the early 2000s, but it's believed he was not found to be a match for the DNA found at the crime scene.
Now, however, one of his former high school classmates, Michael Vail, is urging Boulder PD investigators to take a second look at Oliva and – what he deems to be – the stark circumstantial evidence tying him to the crime.
At the time of JonBenét's murder, Oliva was homeless and sleeping on the streets of Boulder. He was known to frequent the University of Colorado campus and also often hung in and around the St. Thomas Aquinas Catholic Center, where he would collect his mail and hang out with other vagrants in the parking lot.
This story is part of an ongoing series investigating Gary Oliva's potential ties to the murder of JonBenét Ramsey
The university campus is less than a mile from the Ramsey home, while St. Thomas Aquinas is a mere 13 houses away.
A long alleyway running behind the church also extends to the Ramsey home, meaning someone could move between the two properties easily and potentially undetected.
JonBenét's bedroom window would have also been visible from the alley. She and her older brother Burke were known to ride their bicycles down the concealed pathway, too.
Most read in The US Sun
Top BBC star taken off air after 'paying teenager for sexual pictures'
Inside toxic neighbour row over Captain Tom's daughter's swanky spa
Girl, 8, killed by Land Rover at school is pictured as family pay tribute
Major blow to Brit tourists in Spain as pool crisis could ruin holidays
Vail believes Oliva may have crossed paths with JonBenét weeks or months before her death, developed an obsession with the young girl, and stalked and surveilled her family, potentially even breaking into the Ramsey home on numerous occasions.
In addition to what Vail calls Oliva's alarming proximity to the crime scene is a phone call he received from him on Dec. 27, 1996, just hours after JonBenét's lifeless body was found.
A distressed Oliva told him through frantic and sharp exhales of breath: "I hurt a little girl."
Vail pried for more information but Oliva abruptly hung up the phone.
The next morning, after reading about the death of a six-year-old girl in Boulder in the newspaper, Vail immediately contacted police to inform them of Oliva's call. However, the tip wasn't immediately followed up on and Vail wouldn't be contacted by authorities until 2002.
Affirming his belief that Oliva was in some way involved in what happened to JonBenét, Vail said: "I wouldn't be talking about this right now if I hadn't got that phone call.
"That damn phone call convinces me that Gary's involved. I got a phone call six hours before it was in the newspaper from someone in Boulder 13 houses away, telling me they'd hurt a little girl.
"I really feel that Gary did this."
CHILLING VIGIL APPEARANCE
Legendary Colorado detective Lou Smit, who came out of retirement to catch the Ramsey culprit, was the first to name Oliva a potential suspect in the case.
Oliva was previously charged in Oregon for sexually assaulting a seven-year-old girl in 1990 and for attempting to strangle his mother to death with a telephone cord the following year.
During his investigation into the violent offender, Smit discovered that Oliva had attended a candlelight vigil for JonBenet on the one-year anniversary of her death, which was held at Pearl Street Mall.
Images of Oliva were captured, showing him paying his respects in the front row, holding a large folder under his arm that appeared to be sealed with a strip of black duct tape.
It's unclear what the folder contained and if it was ever recovered.
Almost exactly three years later, Oliva would be arrested on the University of Colorado campus on December 12, 2000, and charged with criminal trespass, drug possession, and possession of a weapon by a prior criminal offender.
At the time of his arrest, Oliva was found with a stun gun in his possession, in addition to a photograph of JonBenét and a poem he'd written about her, titled: "Ode to JonBenét."
The discovery of the stun gun was a particularly interesting development to Smit, who – due to some strange markings on her neck – believed one had been used on JonBenét to subdue her in the moments before her death.
The U.S. Sun obtained a copy of Oliva's arrest report.
In the report, it's revealed that Oliva was arrested after illegally entering the university's fine arts building after hours.
He initially gave the officer a fake name, Gary Sabetta, before producing an ID card with his real name.
When asked why, Oliva said that he was worried there was a warrant out for his arrest.
Investigators soon discovered there was: he had violated the terms of his bail in Oregon for child sex crimes. He was initially due to be extradited back to Oregon but the state declined to do so.
A search of his belongings later yielded a strange poem about JonBenét written and illustrated by Oliva, news clippings of the case, and a photo of the girl.
During an interview with university cops, Oliva was informed he had been banned from stepping foot on campus again.
In the report, an officer wrote: "He said that he has been around the campus for several years and does sit in on some classes."
Oliva apparently told the officer that he was very upset as he'd no longer be able to leave "little mementos" on a rock where a plaque for slain student Susanna Chase had been placed.
Oliva seems very emotional about the Jon Benett Ramsey [sic] and Susanna Chase murders even to the point of getting tears in his eyes.
Chase was beaten to death, raped, and dumped in an alley in Boulder in 1997, just months after JonBenét.
Her case went unsolved for 12 years before Chilean national Diego Olmos Alcalde was found guilty of the brutal crime in 2009.
"Oliva claims to be some sort of amateur artist and likes to hang out around the Fine Arts Center," reads the report.
"We talked about his background and his criminal charges and past problems. He stated that his main mistake was the sexual assault in Oregon.
"Other than that, he said everything else is because of him getting drunk and stupid."
Oliva denied being a thief and claimed that he had been in the arts center to get out of the cold.
"Oliva seems very emotional about the Jon Benett Ramsey [sic] and Susanna Chase murders even to the point of getting tears in his eyes," the report continues.
"Conclusion is that Oliva shows [signs] of being fairly intelligent but that at other times he seems off in a faraway land."
Oliva pleaded guilty to all charges in the case.
SECOND ARREST
He was arrested in Boulder 16 years later and again was found to be in possession of a number of JonBenét-related artifacts.
In June 2016, Oliva was caught uploading images depicting the sexual abuse of children to his personal Gmail account on public Wi-Fi connections across Boulder.
In a copy of his arrest affidavit obtained by The U.S. Sun, Boulder PD said it was made aware of Oliva's illicit activity by Google.
Oliva, who was homeless, was detained under a bridge near a railroad track on June 6, 2016, and his phone and other personal items were seized by investigators.
On the device, police recovered approximately 695 images depicting child pornography. Details about the images are redacted in the report.
Additionally, there were 335 photos of and relating to JonBenét.
"Some were regular photographs of her likely found online," reads the report. "Of those photographs, 19 were images of JonBenét's autopsy like from photographs that had previously leaked to the press in years past.
"There were also many photographs of what appear to be shrines to JonBenét Ramsey. It is unknown where these shrines are located or if they were created by Oliva or not."
Investigators also noted that a number of contacts in Oliva's phone referenced members of the Ramsey family, and several videos paying tribute to her were saved on the device.
Numerous other images depicted scenes of cannibalism, torture, and mutilation of dead bodies, per the report.
Along with those images were drawings – believed to have been crafted by Oliva – that depicted rape, murder, dismemberment, and cannibalism.
Images of children crying or otherwise appearing scared had been saved on his phone in large quantities and dozens of images purporting to depict cannibalism and death had been wiped from the device.
Oliva's sketch notebook and a black rucksack were also seized by police.
In the notebook, Oliva made a number of collages that combined photographs of either semi-nude girls or girls in bathing suits with images of child pornography.
In his backpack, investigators found numerous items, including what they called "eight magazines of interest."
"[Seven] of the magazines were American Girl magazines and featured photographs of young prepubescent or early pubescent girls.
"The other magazine was a skating magazine with a young female approximately 11 to 12 years old on the front cover.
"Due to the nature of this case and Oliva's history of sexual assault on a child, as well as my training and experience, […] people with pedophilic impulses generally will use those types of magazines for the purposes of sexual gratification."
Officers noted that at the time of his arrest, Oliva showed no remorse for his actions but did reportedly tell them that he "admitted to having a problem with young girls […] around the age of eight and nine."
'I KILLED JONBENÉT'
Three years after his arrest, Oliva penned a series of odd and disturbing letters to Vail, claiming to have killed JonBenét by accident.
In one of the letters, which Vail shared with The U.S. Sun, Oliva wrote: "I never loved anyone like I did JonBenét and yet I let her slip and her head bashed in half and I watched her die. It was an accident. Please believe me. She was not like the other kids."
In another, he claimed: "JonBenét completely changed me and removed all evil from me. Just one look at her beautiful face, her glowing beautiful skin, and her divine God-body, I realized I was wrong to kill other kids. Yet by accident, she died and it was my fault."
In other letters penned by Oliva, he claimed to have a "disorder" for killing children.
"Please don't hate me. I'm sorry I turned scumb [sic] but even when you first met me I told you how I wanted to kill children.
"When I met JonBenét, she took away that horrible craving to kill kids that you know me for.
"She changed me into a new person. But it's OK. I've killed so many children I've lost track."
Vail forwarded Oliva's apparent confessions to BPD in 2019.
In a statement at the time, a spokesperson for the department said: "The Boulder Police Department is aware of Mr. Oliva and has investigated his potential involvement in this case, including several previous confessions."
The department went on to state that they "routinely receive information" on the Ramsey investigation and that information "is reviewed along with other tips and theories."
The department refused to comment further, citing an active and ongoing investigation.
BPD's response appeared to signal that investigators do not believe Oliva is responsible for JonBenét's death.
He was DNA tested in 2000 but sources say he was not found to be a match for the DNA evidence recovered from the crime scene.
However, very little DNA exists in the case – and Vail believes circumstantial evidence will be the key to cracking the case.
'SERIAL CREEP'
Lou Smit was one of the first investigators to endorse the theory shared by JonBenét's parents, John and Patsy Ramsey, that a pedophile had likely broken into their home and murdered their daughter during an attempted kidnapping.
John and Patsy were deemed persons of interest in the case almost immediately after John discovered his daughter's body on December 26, 1996.
They remained key suspects until 2008 when they were publicly cleared by the district attorney's office of any wrongdoing.
The Boulder Police Department (BPD) has been heavily criticized over the last 26 years for its handling of the JonBenét investigation, mainly for neglecting to investigate other potential suspects and failing to secure the crime scene, destroying potentially vital DNA evidence in the process.
John Ramsey told The U.S. Sun in an interview late last year that BPD investigators were simply ill-equipped and too inexperienced to deal with such a complex murder case – but also "too arrogant" to accept help from the FBI or a larger law enforcement agency.
He said it's his belief that an intruder broke into their home while they were out celebrating Christmas Day and laid in wait before striking in the dead of night when they'd all gone to sleep.
John said due to the complex layout of the sprawling home, he believes the intruder – or intruders – may have broken in multiple times and had likely been surveilling his family for several weeks or months prior to the killing.
Smit pointed to Oliva as a potential culprit, noting his violent criminal history and proximity to the crime scene.
The detective said that Oliva may have been among a group of intruders who broke into the home that night, motivated by pedophilic urges.
Vail said there's no doubt in his mind that Gary was involved in her death, whether that be physically responsible or as an accomplice to another intruder.
Vail told The U.S. Sun that Oliva was known as "Scary Gary" during their shared high school years because of his erratic and disturbing behavior.
In addition to random outbursts of rage or seeming psychotic breaks, Vail said Oliva would frequently break into homes, schools, and other buildings to commit petty theft.
"I would call him a creeper," said Vail, who has been exchanging letters with Oliva for several decades.
"When we were at school, Gary used to creep into homes, buildings, and classrooms and steal art supplies […] paintbrushes, glue, paint, things like that.
"He was getting his mail 13 houses away from the Ramseys, and I think he broke into that home more than once.
"What was down in the basement room, where JonBenét was found? That's where Patsy kept all her art supplies."
TRAGIC CASE
JonBenét was found dead by her father in a seldom-used room in the basement of their family home that they often referred to as the "wine cellar."
She was reported missing hours earlier after John and Patsy awoke to find the girl missing from her bed and a bizarre three-page ransom note at the foot of a staircase that was addressed to John and demanded $118,000 for her safe return.
John found his daughter's body swaddled in a white blanket. She had been strangled with a garrote fashioned from a knotted white rope and a broken paintbrush handle taken from a box of Patsy's art supplies.
Her wrists were tied, black duct tape covered her mouth, and she had suffered a fracture to the back of her skull.
JonBenét's cause of death was ruled asphyxiation and blunt force trauma to the head. There were also signs of sexual assault.
Vail said he wasn't made aware of the details regarding the garrote until 2016, around the time Oliva was arrested for child pornography possession.
When Vail saw images of the makeshift weapon, he said the hairs on his arms stood up.
The use of Patsy's paintbrush and the complicated knot crafted to tie it together affirmed Vail's belief that his high school acquaintance could be the culprit.
"I said to myself, 'Holy crap – that's a paintbrush and there's a knot on the f**king string.'
"When I look at some of Gary's art collages he did at high school, he was fascinated with knots – complicated knots.
Read More On The Sun
Woman issues warning about Shein dress but people STILL want to buy it
I was breastfeeding my baby – minutes later he was pale and floppy
"It blew my mind when I saw the knots and when I saw the garrote my heart just sank," he added.
"What an awful thing to do to a person, a sadistic and cruel thing."

Source: Read Full Article