India limits wheat exports through the govt route as prices rise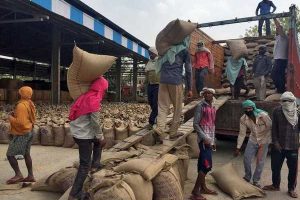 India has put curbs on wheat exports through the government route, starting November last year.
This comes amid a surge in domestic prices of the cereal.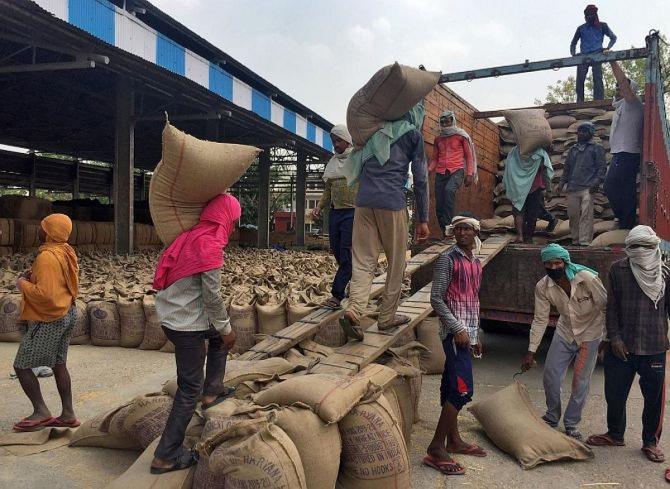 In December, India exported 391 tonnes of wheat to Bangladesh and Bhutan.
In November 2022, it had exported 375 tonnes of wheat only to Bhutan.
This compares to a total of 65,684 tonnes exported to countries such as Bangladesh, Indonesia and Malaysia in October.
During April-December, India exported 4.6 million tonnes of wheat to around 69 countries.
As wheat prices showed considerable spike in view of a surge in export orders due to the Russia-Ukraine war, the Centre, on May 14, imposed a total ban on export.
However, it allowed government-to-government export deals on a need basis.
India, however, put a precondition that wheat exported at a government-to-government level should be used for domestic consumption only and not exported.
An inter-ministerial committee — comprising representatives from agriculture, food and foreign affairs — examines and approves requests from friendly nations, who sought wheat from India, depending on their population.
India's wheat inflation has been in double digits for the last eight months, keeping overall retail inflation elevated.
Wheat inflation touched a record 25.05 per cent last month.
Apart from the wheat export ban, the government also put a total ban on wheat flour (atta) exports along with products such as salmonella (sooji) and even maida.
"There are two plausible reasons for this sharp and sudden drop.
"One could be that countries themselves weren't placing big demand for Indian wheat through government channels.
"This was because global markets eased a bit following the passage of Ukraine wheat from its ports.
"The second reason is that the government itself wasn't entertaining such requests as our own wheat stock was getting bad due to low procurement," a senior government official said.
On April 1, the country would have a wheat stock of 9.6 million tonnes, just above the buffer requirement of 7.5 million tonnes.
In December, the Centre stopped the extra food grains that were distributed free under the Pradhan Mantri Gareeb Kalyana Anna Yojana (PMGKAY) that was started during Covid as a welfare measure.
The step was meant to salvage the wheat stocks apart from limiting the subsidy outgo that was threatening to go out of hand.
Since February, the Centre has been liquidating around 3 million tonnes of wheat from its inventories.
This was to further pull down prices that had touched a record high of Rs 3,200 per quintal in Delhi markets during January.
Recently, it further reduced the reserve price of wheat from the Food Corporation of India (FCI) to Rs 2,150 per quintal for bulk consumers under open market sale scheme (OMSS) to further cool down prices.
The move brought the reserve price closer to the 2023-24 minimum support price (MSP) of Rs 2,125 per quintal. FCI has already sold 1.31 million tonnes of wheat out of 2.5 million tonnes to traders and flour mills, among others, during the first two e-auctions from February 1-2 and again on February 15.
The next auction will be held on February 22.
Under the OMSS policy, the government allows FCI to sell food grains, especially wheat and rice, at predetermined prices in the open market to bulk consumers and private traders.
The country's wheat production fell to 106.84 million tonnes in the 2021-22 crop year (July-June) from 109.59 million tonnes in the previous year.
This was due to heat waves in a few states.
Wheat production this year is projected to be at a new record of 112.18 million tonnes.
Procurement of the new wheat crop would commence from March 15.
Source: Read Full Article