Full list of school closures as teachers set to launch three-day walkout starting tomorrow – how will you be affected? | The Sun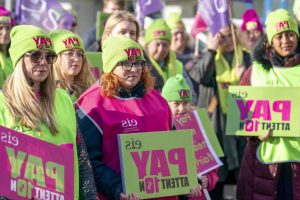 TEACHERS are set to strike again causing chaos for parents up and down the country.
The school staff are set to walk out over three days this week in a dispute over pay and conditions.
National Education Union (NEU) members will walk out on the following days –
Tuesday, February 28 – Northern, North West, Yorkshire & The Humber
Wednesday, March 1 – East Midlands, West Midlands, Eastern
Thursday, March 2 – London, South East, South West, Wales
Here we take a look at exactly which schools are set to shut their doors…
BEDFORDSHIRE
Bedfordshire Council has not yet revealed which schools will shut.
MORE ON SCHOOLS
Schools introduce drastic new measure to stop kids from vaping
My son, 12, hasn't been to school for seven months – I've had to give up work
Their website reads: "Some schools may have a partial opening or even have to close completely dependant on staffing levels and head teachers have been letting their parent/carers know which classes may run as usual and which won't."
Check the County Council website here for more information on school closures.
BUCKINGHAMSHIRE
A full list of schools and whether they are open or closed across Buckinghamshire can be found here.
CAMBRIDGESHIRE
Schools across Cambridgeshire will be open, partially or fully closed, find out more here or contact your school.
Most read in The Sun
Reaction as emotional Fury breaks down after stunning win, Paul wants rematch
Fans convinced fight is FIXED after Fury beats Paul despite being knocked down
Fury breaks down in tears as he survives shock knockdown to beat Jake Paul
Jake Paul warns Tommy Fury 'can't escape' as he makes ring reveal before fight
Cambridgeshire Council say any school closures will be communicated to parents via their school or college.
CHESHIRE
There is limited information available for school closures across Cheshire, check with your school for more information.
CORNWALL
Cornwall Council has confirmed that it won't publish a list of schools closed as a result of the strike action, as it is not an emergency event such as those caused by extreme weather.
CUMBRIA
A huge number of schools across Cumbria are fully and partially closed tomorrow, check this handy map to see if your school is affected.
COUNTY DURHAM
The following schools in Durham will close on Tuesday, February 28 all day and re-open on Wednesday, March 1.
Cockton Hill Infant School
Fencehouses Woodlea Primary School
North Park Primary School 
Oxclose Primary School
Peases West Primary School
Sunnybrow Primary School
More school closures across County Durham will be updated here.
DEVON
The following schools in Devon will shut on March 2 for strike action.
Bowhill Primary School
West Down School
Berrynarbor Church Of England Primary School
More school closures will be announced here.
DERBYSHIRE
Check the county council website here for information on school closures across Derbyshire.
DORSET
Check here for updates on school closures in Dorset.
EAST SUSSEX
A full list of the schools which will be closed or partially open can be found here.
ESSEX
Many schools across Essex will be fully or partially shut in the coming days, a list can be found here.
GATESHEAD
Dozens of schools in Gateshead will be impacted by strikes, check this list to see if your kids are affected.
GREATER MANCHESTER
Check your borough website or call up your child's school for more information on school closures.
Bolton
Bury
Oldham
Rochdale
Stockport
Tameside – check with your school
Trafford
Wigan
HAMPSHIRE
Hundreds of schools across Hampshire will be impacted by teacher strikes.
A list of school closures can be found here.
HEREFORDSHIRE
It is unclear how many schools across Herefordshire will be impacted.
Check here for updates on school closures.
KENT
You can use this search tool to find out which schools will remain closed in Kent.
LANCASHIRE
A full list of school closures across the whole of Lancashire will be updated here.
LEICESTERSHIRE
Check here for updates on schools in the city of Leicester.
The following schools will be fully closed on 1 March 2023
Brook Mead Academy
Buswells Lodge Primary School
Castle Mead Academy
Catherine Junior School
Glebelands Primary School
Judgemeadow Community College
New College Leicester
Orchard Mead Academy
Soar Valley College
The following schools will be partially closed on 1 March 2023
Ash Field Academy
Avanti Fields School
Babington Academy
Beaumont Leys School
Caldecote Community Primary School
Catherine Infant School
Children's Hospital School
Coleman Primary School
Ellesmere College
English Martyrs Catholic School
Fullhurst Community College
Green Lane Infant School
Heatherbrook Primary Academy
Herrick Primary School
Imperial Avenue Infant School#
Inglehurst Junior School
Lancaster Academy
Marriott Primary School
Mayflower Primary School
Mellor Community Primary School
Merrydale Infant school
Moat Community College
Montrose School
Nether Hall School
Parks Primary School
Rushey Mead Academy
Rushey Mead Primary School
Sandfield Close Primary School
Shaftesbury Junior School
Sir Jonathan North Girls' School
Slater Primary School
St Barnabas Church of England Primary School
St John the Baptist Church of England Primary School
Taylor Road Primary School
West Gate School
LINCOLNSHIRE
Information on school closures across Lincolnshire can be found here.
LONDON
People are advised to check with their local authority for information on school closures in your area.
Barking and Dagenham
Barnet
Bexley
Brent
Bromley
Camden
City of London
Croydon
Ealing
Enfield
Greenwich
Hackney
Hammersmith & Fulham
Haringey
Harrow
Havering
Hillingdon
Hounslow
Islington
Kensington & Chelsea
Kingston upon Thames
Lambeth
Lewisham
Merton
Newham
Redbridge
Richmond upon Thames
Southwark
Sutton
Tower Hamlets
Waltham Forest
Wandsworth
Westminster
MERSEYSIDE
Liverpool Council have not yet revealed which schools will shut on certain days.
NORFOLK
There are currently no schools set to shut, but check here for updates.
RUTLAND
Check Rutland County Council's website here for updates on whether your kid's school is closed.
SOMERSET
Over 40 schools in Somerset are affected by teachers strikes, check here to see if you're impacted.
STAFFORDSHIRE
Check here for school closures as they are announced.
Check Suffolk County Council's website here, it contains a town search engine to let you know if you child's school has been affected.
YORKSHIRE
Many schools are likely to be impacted across North, South, East and West Yorkshire – check your local council website form more information.
SUSSEX
Check here for details in East Sussex, and click here if you live in West Sussex.
Read More on The Sun
Savvy parents scramble to nab Disney toy kitchens reduced from £55 to just £7
iPhone users issued urgent warning as thieves use 'reset' trick
Wiltshire
WiltshireLive reported that eight schools will be fully, and 48 partially, closed on Wednesday.
The council cannot provide names of the schools, so check with your one to see if your kids are affected.
Source: Read Full Article