Interior Department Proposes First-ever Gulf Of Mexico Offshore Wind Lease Sale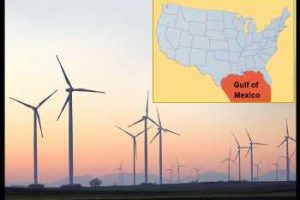 The Biden Administration has announced a set of actions to expand offshore wind jobs, grow clean energy economy, and local economic development across the United States.
Prominent among them, the Department of the Interior is proposing the first-ever offshore wind lease sale for three areas in the Gulf of Mexico, offshore Texas and Louisiana.
The Proposed Sale Notice (PSN) announced Wednesday includes a 102,480-acre area offshore Lake Charles, Louisiana, and two areas offshore Galveston, Texas, one comprising 102,480 acres and the other comprising 96,786 acres.
The Department of the Interior's Bureau of Ocean Energy Management is seeking public comments on which, if any, of the two lease areas offshore Galveston should be offered in the Final Sale Notice.
These areas have the potential to generate enough clean energy to power almost 1.3 million homes.
The proposed auction includes provisions that would incentivize new investments in workforce training and a domestic supply chain, to expand economic opportunities across offshore wind manufacturing, port operations, and more. The Bureau of Ocean Energy Management collaborated with the National Oceanic and Atmospheric Administration to analyze the entire Gulf of Mexico ecosystem to find areas that have the least conflict with other uses and the lowest environmental impact, the White House said.
BOEM is also seeking feedback on several lease stipulations that would reaffirm its commitment to create good-paying jobs and engage with ocean users and other stakeholders.
Separately, California and Louisiana are joining the Federal-State Offshore Wind Implementation Partnership to collaborate with federal agencies and other states on priorities including building an American supply chain and skilled workforce for offshore wind. California Governor Gavin Newsom and Louisiana Governor John Bel Edwards have been leaders on seizing clean energy opportunities that create good-paying jobs, lower costs for families, and reduce climate pollution.
Thirdly, the Departments of Energy, the Interior, Commerce, and Transportation have jointly kicked off a two-day Floating Offshore Wind Shot Summit, convening a broad range of leaders across sectors to advance the Biden Administration's goal of reducing the costs of floating offshore wind energy by over 70 percent by 2035.
"There is no time to waste in making bold investments to address the climate crisis, and building a strong domestic offshore wind industry is key to meeting that challenge head on," said Secretary of the Interior Deb Haaland.
Source: Read Full Article