Mum who grinned as she was jailed for beating husband also stole best friend's partner while staying at her home | The Sun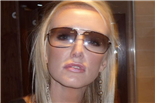 A MUM who carried out a 20-year campaign of abuse against her husband went on to steal her best friend's partner.
Heavy-drinking Sheree Spencer was jailed this week for punching, kicking, slapping and biting her husband Richard around during persistent "nasty" attacks that left him fearing for his life.
Now her former pal Caroline Grant has told how Spencer, 45, ran off with her husband after moving in with them following the breakdown of her marriage.
She told MailOnline, Caroline said: "When Sheree's marriage broke down, I was the only person who stood by her, and she thanked me by stealing my partner.'
"From the moment she arrived in our home she and Adrian were drinking together and acting like a pair of giddy teenagers around each other.
"Even though there were alarm bells sounding I felt sure that nothing would happen after I'd given her a home in her time of need.
MORE ON COURTS
Yob fined £40 for attacking neighbours in £10,000 taxpayer-funded court battle
BA wouldn't refund my £2k flight after Covid – I took the airline to court and WON
"But Sheree only cares about Sheree. She seduced Adrian from right under my nose."
Caroline and Spencer met when their daughter became friends at school – and when her relationship ended with Richard, Caroline came to her rescue.
She had no idea cops were investigating Spencer after she viciously hit him with a wine bottle, leaving him disfigured with a "cauliflower ear" and a chipped elbow.
Caroline explained: "When I eventually became aware of what she had been doing to Richard, like everyone else I was horrified. But by then she was already living in my home and was settled.
Most read in The Sun
Love Island fans' horror as axed Olivia handed power to destroy TWO other stars
Frogmore eviction shows King's drawn a line with Harry
Strictly star bags life-changing EastEnders role as part of new family
Baby's body found after huge search as cops quiz Constance Marten & lover
"In July 2021 she told me she was staying with a friend because she and Richard had split up. She said it wasn't a particularly good situation because she was having to share a room with her friend's son.
"I invited her to spend a night at mine and Adrian's home, but as it turned out she would end up spending months with us."
Spencer's violent behaviour towards her husband came to light after cops were alerted because of concerns from friends.
One savage incident saw Spencer spit at her husband and grab him by the throat, causing him breathing difficulties.
But Caroline had no knowledge of the campaign of abuse and Spencer soon made herself comfortable in her home,
Caroline soon became suspicious that Spencer and Adrian were becoming too close.
She said: "They were spending their time getting drunk every night. They liked to sit in a garden room we have which we call The Cabin and would be up swearing and shouting and laughing long after I had gone to bed.
"I told myself that neither of them would do such a thing under the roof of our family home. I couldn't have been more wrong.
"It's such a betrayal – I even gave up the master bedroom for her so that she would be comfortable."
Spencer lived with Caroline until October 2021 – when she was finally arrested.
Caroline explained: "I was asking Adrian whether he and Sheree were having an affair and he denied it despite spending so much time at her new home. 
"People will think I was naive but I'm a trusting person and I believed it until he eventually told me just before Christmas: 'Yes we've been having an affair and I'm in love with her.
'He moved out on Boxing Day 2021 and moved in with Sheree. It was as though she was some kind of trophy on his arm, he introduced her to his family soon afterwards, he'd moved on completely."
Adrian accompanied Spencer to this week's hearings at Hull Crown Court where she was caged for four years.
Read More on The Sun
I'm a supermarket expert & there's 7 types of customers we hate – don't fall foul
I decided to get chin fat dissolving injections – but I look like Peter Griffin
Judge Rayfield said: "You have caused him significant psychological harm. There is a history of violence and abuse against the same victim."
Male victims of domestic abuse can phone Respect, the men's advice line for help and support here.
Source: Read Full Article