'Our IPO signals faith in good old-fashioned profitable companies'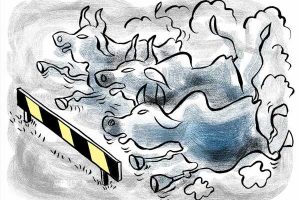 'We have focused on profitable revenue, cash generating businesses, throughout our journey'
The Latent View Analytics IPO performance took many by surprise, especially when the country's largest IPO, that of Paytm, received tepid investor interest.
Rajan Sethuraman, CEO, LatentView, attributes the interest in his firm to good old business traits of profitability and confidence in the business growth.
In an interview with Shivani Shinde, Sethuraman talks about the company's journey since 2006, why an IPO now and growth ahead.
On the listing day the company share prices were up almost 160 per cent. Did you anticipate this reaction from investors?
We were expecting a good response on the back of all the investor conversations we have had over the past three months.
But when the IPO subscription happened, we were overwhelmed.
It was definitely much higher than what even we anticipated.
Yes, it was a pleasant positive surprise, but not entirely unanticipated.
Data analytics has been around for some time, but to build a business around it as early as 2006 is a big bet. What convinced the company about its strategy and how has the ride been since 2006?
This question is to better answered by founder Venkat (Venkat Vishwanathan).
Before founding LatentView, Venkat was working with Cognizant and he would tell us clients would be swimming in data but would not be able to make sense or get insights into it.
They are not exactly getting the insights needed in order to make sound business judgement and business decisions.
If you look at the history of IT services, there have been several waves, starting off with Y2K and then building out or re-platforming from mainframe to a client server system, building out a custom solutions or the ERP wave, etc, and every one of those waves came, there was a promise of better way of integrating data that will bring it all together, so that people can make the right kind of decisions.
But though data creation has continued to grow it has remained in silos.
Getting an integrated perspective has always been a bit of a holy grail situation.
This was the genesis of the idea. Early years were focused on building the India business.
In 2009-2010 on the back of the credit crisis, we switched attention to the US and we won Microsoft as our first big account and one thing led to another there has been no stopping since then we landed on the West Coast and then we started working with tech companies.
Our clients have been fantastic partners and forces of business for us.
Today we boast of two-thirds of our business coming from the tech space.
We work with the top five tech companies in the world and that is really where we have built of our analytics rigour.
We have built a very solid robust business.
The focus has always been on working with marquee leaders in the industry and helping them solve a fairly broad spectrum of business problems, but using the power of data and analytics and ensuring that we are delivering business impacts.
We have focused on profitable revenue, cash generating businesses, throughout our journey.
In some sense, what has happened, in terms of the IPO over subscription, as well as the listing that we see today is really the reaffirmation of investor and market faith in solid fundamentals that good old fashioned profitable businesses.
Will it be fair to assume that the response is also because your business is easily comparable to the IT services industry, which has seen an uptick since the pandemic and the acceleration of digital transformation?
This is something clients are able to appreciate the solution that we bring in.
The business problems that they want to tackle, data analytics is a very relevant approach.
Within IT services there are all these stacks that have been built, starting with the foundations, in terms of mainframe, legacy systems, clients server, etc.
Data analytics in some way is sitting right at the top of the pyramid.
This is the next wave and hopefully this will help answer a lot more questions.
It'll help address more nuances and complexity that we see in the business.
Why an IPO now?
The IPO is really to do justice to the market opportunity.
It's a 15-year gestation period, it is not a short period.
I mean, today, you do see the pace with which companies are able to approach the public market is also accelerating, I think as space data analytics has matured over the last 10-15 years and the pandemic has really resulted in an inflection point.
We can see that in the conversations that we are having with our clients.
Not that we were not contemplating an IPO or tapping into the market prior to the pandemic.
This is something that we have been thinking about for some time, but the pandemic has created a huge inflection point.
If you look at the results of the IT services players within that digital data analytics has gained a lot of attraction, more complex problems on the higher end of the value chain being pursued through the power of data analytics.
If you see the prospectus, it points out that the industry is expected to touch about $330 billion in the next three-four years.
That is a massive opportunity that there is huge headroom for growth.
In some sense. We are just preparing ourselves right for the growth that has to come.
In that sense this is a small fundraise in the larger scheme of things.
What is driving this aspiration for all of us is that while we look back at the past to what brought us to this critical juncture, we want to now go into the market and grab this opportunity now with even more renewed enthusiasm.
This listing in some sense is defining a new category into the listing market.
Over the last few weeks several of our peers in the data analytics sector have been calling us about how they are super excited about what we have created and done in this space.
We expect that all of us will work together to increase the size of the pie and make it a defining category.
LatentView in terms of size is a good acquisition target, did you get offers and why did you not take it?
We have been approached by several large companies.
We have had conversations too, but all of these things come with a certain amount of restrictions.
Our philosophy has been very traditional, and simple minded that focuses on cash generating high quality work.
The moment you take PE/VC money or get acquired you are subjected to their philosophy and business approach.
We always had debates when we received such offers.
Its heartening to see that this philosophy is resonating well with the public, investors and customers at large.
Feature Presentation: Aslam Hunani/Rediff.com
Source: Read Full Article